If you're planning your move to Washington, you're likely considering all the travel plans and costs you need to address to get your family relocated to the Evergreen State. Your dog is, of course, an important part of the planning stages. You may be wondering how exactly you can get your furry friend to your new home. Luckily, there are several options that answer the question of how to ship a dog to Washington. 
Of course, these transportation options vary greatly in terms of price, method and timing. Before you get worried that you'll have to leave your canine companion behind, know that several dog-friendly travel options are available.
When it comes to pet transportation, there are typically two main options. Either you can arrange for your dog to travel on a plane or for them to travel in a car. There are considerations for each method, but the first step is to decide which method is best for your dog's needs.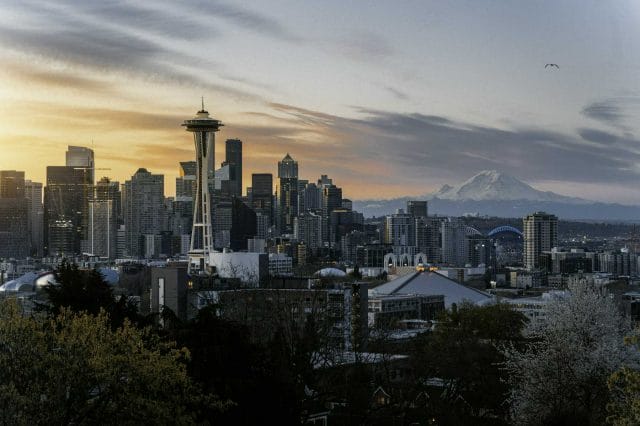 The Most Common Methods to Ship a Dog to Washington
In the Air
Air transport may seem like the easiest way to transport a dog to Washington. However, there are some complications that may make it unsuitable for your situation.
Only dogs that weigh under 20 pounds (and that's including the weight of the carrier) can fly in the cabin.
When your dog is at the airport, he cannot leave his carrier unless using a designated potty area.
You have to arrive at the airport extra early, meaning even more time your dog spends in a cramped travel crate.
Larger dogs must fly in the cargo area, meaning they'll be separated from you during the flight.
Most airline employees are compassionate people, but they're by no means animal experts or veterinarians.
If your dog is a brachycephalic breed, it's not allowed to fly in the cargo area for health reasons.
That's a lot of reasons that airlines might not be the best way to ship a dog to Washington — and it's not even all of them. If the weather is too hot or cold, your pet's ticket will be canceled or postponed, which could leave you stranded. And that's not even touching on the volatile nature of the airline industry as of late, with entire flights canceled by the thousands throughout the year.
Ship A Dog to Washington On the Road
The second option that your dog has for transportation is ground travel. If you're already driving to your destination in Washington, you can consider the do-it-yourself approach and bring your dog along for the ride. However, if you plan to fly, it's more cost-effective to hire a transporter.
Many transporters provide everything that's needed for the trip, including the carrier.
Travel carriers can be expensive and it's a waste of money if you're only going to use it once.
You can bring your dog's food but many drivers provide food.
Pet transporters are used to being on the road and spending long hours driving isn't an issue for them.
Your dog is probably already used to being in a car, as they have to go for a ride to the vet or other everyday travel. Of course, traveling around town is a much different experience than spending hours in a carrier on the interstate. If you can, prepare your dog for the journey — take them on progressively longer car rides so they get used to the experience.
How Much Does It Cost to Ship a Dog to Another State?
If you're planning your move to Washington, you are likely searching for an answer to the question "How much to ship a dog to Washington?"
As much as we'd love to give you a simple answer to this question, there's no one-size-fits-all answer to the question. Your overall cost is going to be highly dependent on your situation.
What Goes into the Price of Transporting a Dog?
As we mentioned above, there are a lot of variables that go into the total cost of transporting your dog. While these variables can be hard to keep track of if you are simply trying to think of everything off the top of your head, if you think of them into the following five categories, it can be much easier to make an estimate.
Method of Transportation
Transportation Service
Travel Distance
Preparation Costs
Variable Fees
1. Method of Transportation
As we outlined above, you need to decide what type of transportation you want to use to transport your dog. Will you be looking for your canine air or ground travel services?
This decision creates the basis for your estimation because air travel will automatically start your estimate much higher than ground travel will.
2. Transportation Service
Once you've chosen between air and ground travel, you can look for a service (or a number of service options) that you may want to use for your pet. You can gather quotes from these services or use any basic price guidelines they may provide.
There are many different pet relocation services available for you to choose from, and this may take some time to research, but it will make up the bulk of your estimate, so it is an essential step.
3. Travel Distance
Many pet transportation companies will charge based on the distance your pet needs to travel, so if this is required, you will need to take note of this distance.
4. Preparation Costs
Are there any items you need to purchase for your dog to make the trip? For example, do you need to buy a crate or pet carrier? Do you need to update any vaccines or shots for your dog before traveling? All of these miscellaneous costs will fall into this category.
5. Variable Fees
This last category will likely differ depending on what transportation service you select. For example, suppose you decide to go with CitizenShipper's dog transportation service. In that case, you will gain access to comprehensive driver background checks, $1K of pet protection coverage, and 24/7 televet services for your pet during the trip in exchange for CitizenShipper's service fee.
Laws and Rules for Transporting a Dog to Washington
Like most states, Washington requires dogs be vaccinated against rabies. The state also requires that your dog either be actively taking anti-heartworm medications, or else test negative for the parasite. A CVI (Certificate of Veterinary Inspection) is also required by law — and may be requested by airlines before allowing animals to board in general.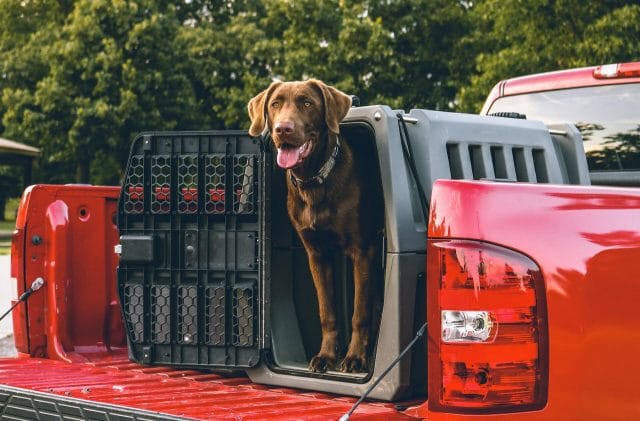 How Do You Know Which Pet Transport Company is Best for Your Pet?
Moving is stressful enough already without spending the entire time worrying about how your pet is doing. You want to feel confident that your canine companion is in good hands and being cared for as they are making their journey to meet you at your new home.
There are so many different pet transportation services available today that it can take a lot of time and research to find one that will really work for you. But, it's crucial to take the time to really find a solution that you are comfortable with rather than settling for one just because you aren't sure what other options are out there. Your pet's safety is your first priority during this process, so you must first establish what it is that your dog needs to travel safely.
That's where CitizenShipper comes in. Unlike traditional pet transportation companies, which typically assign you a driver, you get to choose the transporter.
1. Create a free listing for a dog transport.
2. Within minutes, you'll start receiving competitive bids and messages from drivers using our platform.
3. You can chat with drivers, read reviews from previous customers and browse driver profiles for free.
4. Once you find a driver with whom you feel comfortable, you can book the transport. CitizenShipper charges a modest success fee, which is in addition to the driver's price. This fee is used to improve the marketplace and ultimately, the customer experience.
5. After booking the transport you are free to exchange contact information with the driver, making it easy to stay in close contact throughout the journey.
You should consider the trustworthiness of the service you are using and only work with a driver you feel comfortable with taking care of your dog during the trip. This is precisely why CitizenShipper is the #1 pet transport platform in the United States.
Unlike other transporters, you can select your driver from their list of caring, reliable, and background-vetted pet transporters. Other benefits of CitizenShipper include:
A Pet Protection Plan of up to $1,000
Every driver has 24/7 access through FirstVet
Booking Assurance Guarantee
Direct communication with drivers
Conclusion
Hopefully, this article helped you to understand the variables that go into answering the question, "how much to ship a dog to another state?"

One of the best ways to get an accurate quote for your pet transport is to post a free listing on our marketplace! Head over to our site and create a listing for pet transport to Seattle and find out how much you can save with CitizenShipper.
Content Writer at CitizenShipper. I've also been published on The Penny Hoarder, Mommy Poppins and mxdwn.