Leading pet transport service platform in the US
We're leading the pack
CitizenShipper is the first and only shipping platform to offer a Pet Protection Plan for every journey.
Our promise: safe and happy pets at every step
Your pets are so much more than four legs and a tail — their members of your family and best friends for life. We're proud to be the nation's top-rated and leading service for pet transportation. Our unique process matches you with a fleet of pre-screened drivers that you have the luxury to choose from.
$1k Pet Protection Coverage
Up to $1,000 pet protection guarantee1. to give you peace of mind when booking.
24/7 TeleVet Access
Through our partner FirstVet. Just in case.
Booking Assurance Guarantee
From quote to delivery, so you can select and ship with confidence 2.
Caring drivers you can trust
Background checks 3, direct contact with drivers and thousands of customer reviews at your fingertips. Because your pet should only be in the best of hands.
The Guide to Safe and Simple Pet Transport
Transporting your pet from one location to another can be stressful. Several options are available for pet transportation, each with its own logistics and costs. By understanding these options, you can make an informed decision and alleviate some of the stress of moving your pet. One of the most convenient and safest ways to transport your pet is by using professional pet transportation services. With their expertise, you can rest assured that your pet will be in good hands throughout the journey.
CitizenShipper is a safe, cost-effective, professional pet shipping service platform that helps get your dog or cat delivered safely to your door.. CitizenShipper has facilitated the safe transport of over 100,000,000 animals and is the #1 pet transport platform in the USA.
Table of Contents
What is a Pet Transport Service?
How Much Does Transporting a Pet Cost?
How to Prepare Your Pet for Transport
Home to the Best Pet Transport Companies
cs
Moving With Your Pet
Moving to a new city or state can be exciting but highly stressful. Packing your home and belongings becomes even more complicated when you own pets. Pet relocation takes careful planning and logistics. But, with the proper forethought, attention to detail and the help of an experienced transporter, moving with a pet can be stress-free, safe and easy.
Plan Early for Hassle Free Pet Shipping
The best way to ensure a successful move with your pet is to plan early. Consider any moving logistics, like time and distance, that might come into play. Get your pet accustomed to its crate by riding in a car for long distances. If you plan to stay overnight in a hotel, prepare your pet for the new sounds, sights and smells.
Schedule a veterinarian appointment before your trip to certify that your pet is healthy enough for the journey. Keep their food, water bowl, treats and medication within easy access during the trip.
Packing your home too early can make your pet nervous and anxious. If possible, space out your packing so you don't upset your pet. Pack their toys, bedding and food bowls last to help keep your pet calm during the transition.
Don't hesitate to ask for help when moving a pet. Having an extra set of hands can go a long way when working with leasing agents, realtors and movers. And hiring a pet transportation company can take out the guesswork, facilitating an easy and stress-free move.
Ensure safety of your pet during transport
Ultimately, ensuring your pet's safety throughout the journey is paramount. We know that the health and well-being of your pet is essential. Whether traveling by plane, train or vehicle, your pet needs a cargo crate to stay safe and feel secure. Depending on the airline, you may be required to meet strict regulations on the crate's size and shape. Be sure to research ahead and buy an appropriate-size crate.
Your pet needs access to food, water and necessary medications throughout the trip. Your pet will need frequent bathroom breaks throughout your journey and will appreciate some time to stretch its legs with some fun play at the end of the day.
If necessary, research your end destination to learn about diseases or parasites. Start preventative treatment early to keep your pet protected and safe upon arrival.
Short and Long-distance pet transport
Overall, the distance will largely determine how you travel with your pet. A simple move within the same city can be accomplished by a short car ride. Moving across the country to another state requires careful planning and transportation logistics. Documentation and health certificates are usually needed to transport a pet to a new state.
If you're flying with pets, research the airline's requirements for pet transportation. If you have a small dog or cat that can be considered a "carry-on" item, make sure you alert the airline well in advance that a pet will be in the main cabin.
Many airlines have strict regulations on required documentation, health certificates and cargo crate sizes.
Transporting Multiple Pets
Traveling with just one pet is complicated, but multiple pets increases the level of difficulty. Be sure you fully understand the limitations, restrictions and regulations surrounding multi-pet transit. Many airlines have rules concerning multiple pets and require one crate per pet and only allow one pet per person in the main cabin.
Before traveling with multiple pets, consider your pets' personalities. Traveling by vehicle may be a better option if your pets prefer to be together.
What is a Pet Transport Service?
Finding a reliable pet transport service can relieve stress and planning, especially when moving out of state with a pet. Finding the right pet shipping service largely depends on the distance of your move and your budget.
Pet Ground Transport
Typically, pet ground transportation refers to a vehicle service that transports your pet to a new location. Sometimes, though, ground pet transport can refer to train travel. A local pet taxi service may be the best option for short trips, while a door-to-door transport service is better for cross-country moves.
Pet Air Transport
For longer moves, pet air transport is another option. Airlines charge a fee to fly your pet in addition to the cost of your own ticket. Keep in mind that certain dogs, like brachycephalic breeds, may not be able to fly due to potential health complications. Large dogs — usually those over 25 pounds — must fly in the cargo area. Small pets may qualify to travel in the main cabin as "carry-on" luggage.
Another option is to hire an air nanny. Air nannies are professional pet transporters who meet your pet at the airport, care for them while on the plane and deliver them safely to you at the destination airport. Many CitizenShipper transporters offer Air Nanny services. Keep in mind you'll have to pay for the air nanny's round-trip ticket and your pet's ticket.
An Air Nanny can help you facilitate flying your pet via an airline cabin.
International Pet Transport
Traveling with your pet internationally requires different rules and regulations than domestic pet travel. This includes additional documentation, quarantine procedures and health certifications. Many airlines won't fly pets in the cargo area internationally and require a special pet transportation service. International pet shipping varies greatly between the arrival countries and airlines.
Pet relocation services are often required for international shipments, and international pet shipping costs will vary depending on the pet, distance and country of arrival.
Using a pet transport company to help with logistics has several benefits. Reducing your pet's stress level is essential and can lead to a safer, healthier and happier journey.
Some of the benefits of pet transport services include:
Easy Logistics — Using a pet transportation service means complex travel logistics are handled for you. Simply give your transporter your pet, and many of the arrangements are taken care of.
Reliable — Pet transporter services are reliable and timely. Transporters care about pets and are passionate about providing quality, safe and trusted service.
Experienced — Chances are pet owners are not well-versed in moving their pets across the country. Hiring experienced pet movers provides you with peace of mind. You'll know your pet is in good hands.
Affordable Cost — Prices for a pet transport service are usually competitive compared to other methods. At CitizenShipper, we aim to keep our costs low so that you can worry about more important things, like the safety and well-being of your pet.
Door-to-Door Pet Transport
Many pet owners prefer door-to-door pet transportation services for long-distance moves. Having a pet moving service to help move your pet can eliminate stress and guesswork.
For shorter trips, transportation with a vehicle is the best option. A trustworthy and approved pet transporter will safely bring your pet from your starting location to its final destination. Your pet will be picked up and dropped off at your front door, with all the arrangements managed for you.
Where pets are family, not cargo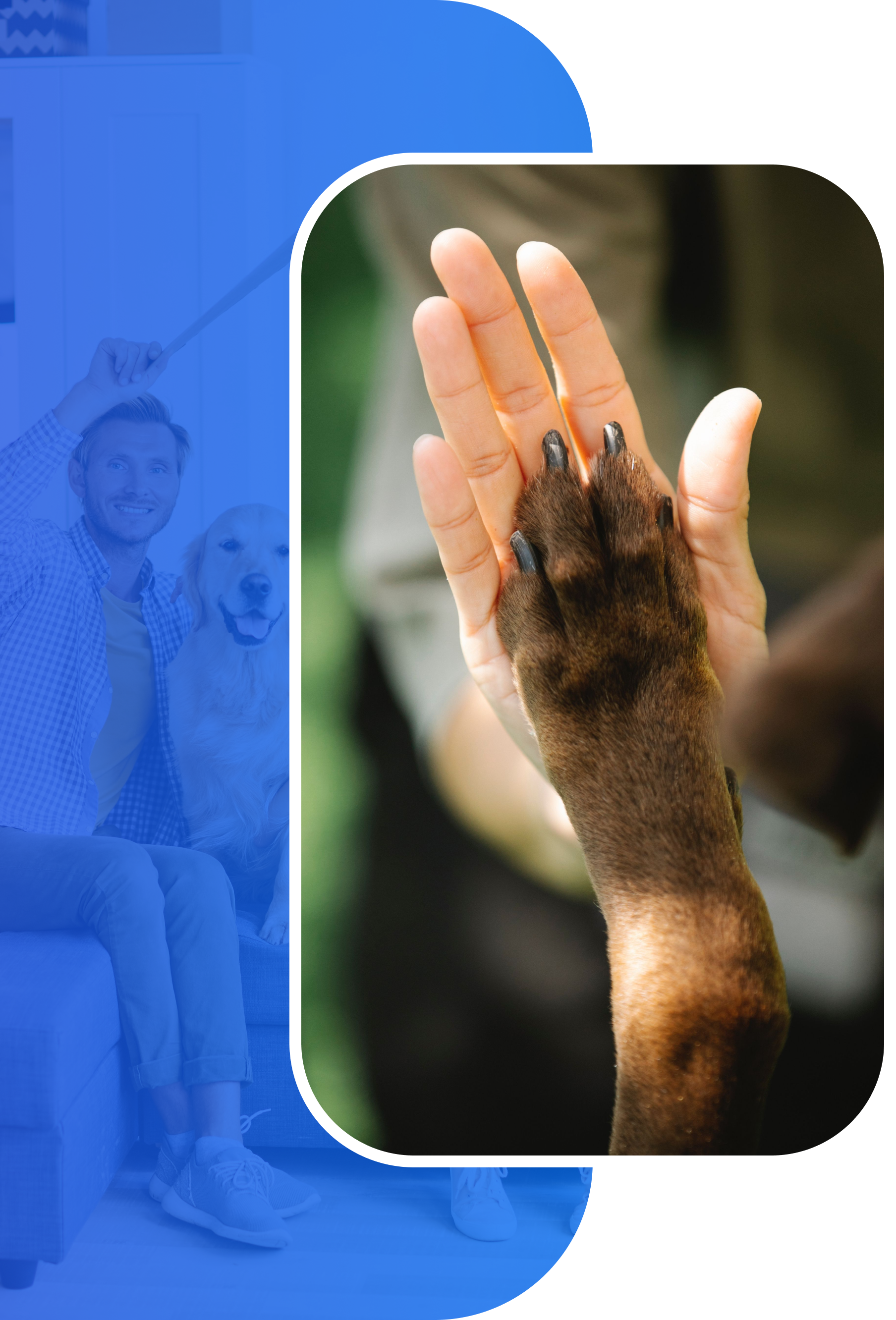 Pets are the family you choose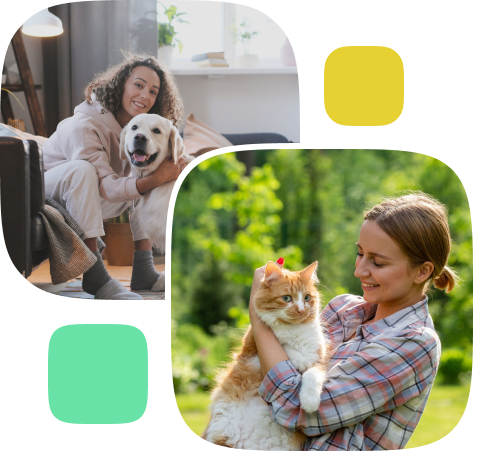 How Much Does Transporting a Pet Cost?
Ensuring your pet arrives safely at its destination is of primary importance. With several options, it can be confusing to determine the best pet transportation service for you and your furry friend. The safest and cheapest option for pet transportation will depend on your pet's size, and the distance traveled.
How Much Does It Cost to Ship a Dog Domestically?
Shipping a dog domestically usually costs over $125 for a place in the main cabin. It costs more if they travel in the cargo hold. Remember that each airline has special regulations regarding the type of crates they accept, which may incur an additional cost. The price of an approved crate depends on the size of your pet, but for large dogs they can be upwards of $150.
Many countries require import paperwork and special procedures that a professional and knowledgeable company must complete.
Most airlines will only allow you to ship your dog in cargo on domestic flights. International flights will require special pet transport designed specifically for animals.
How Much Does it Cost to Ship a Pet in Cargo?
Large dogs have to go into the cargo space aboard the plane, incurring extra costs. While the price varies between individual airlines, the cost to secure space in the cargo hold is typically between $500 and $1,000 per pet. Keep in mind that many airlines have strict regulations outlining the size of the pet crate. Purchasing an additional crate that meets the criteria could incur high costs.
How Much Does it Cost to Ship a Dog by Itself?
The cost of shipping a dog alone on a flight will largely depend on the airline used and the route taken. At a minimum, you'll have to pay a special fee to hold your pet in the cargo space. Typically, this fee is around $500, but the cost varies between airlines. Keep in mind that these expenses can add up quickly when shipping a dog by itself. You'll need to consider the route your flight takes and whether there is a layover. A layover for a pet can add more fees, especially if a person will have to look after the pet or board the pet in a specialized pet-friendly hotel. Of course, checking with the airline directly before budgeting for your pet's travel is always best.
How Much Does Pet Ground Transport Cost?
Domestic ground transport is a great alternative that uses the services of a professional pet transporter. Pet transport services are ideal for larger animals that cannot travel by train. The cost of your transport will largely depend on the travel distance and the size of your pet.
A small fee is added to the total cost based on the total distance traveled for pet ground transportation. When using CitizenShipper, this fee accounts for the benefits we offer, including driver background checks, $1000 Pet Protection insurance and 24/7 TeleVet care through FirstVet. The fee is paid upfront with no hassle or confusion.
What Is The Cheapest Way to Transport a Dog?
The cheapest way to transport a pet is by train. However, Amtrak has strict pet transport regulations and will only allow cats and dogs under 20 pounds. If you have a large dog, train transport is not an option.
An affordable and versatile alternative is ground transport utilizing a pet transport service. Pet ground transport prices for a short trip could be as little as $100, while a cross country pet transport will cost more.
See why our customers love CitizenShipper
Pet owners love CitizenShipper!
Here's what they're saying...

CitizenShipper: A Great Choice
Was in a tizzy about getting my newly adopted puppy to me from OH to MT. Didn't realize he was a "snub nose" breed and couldn't fly in cargo. Started intense and avid research. So glad I found CitizenShipper. I had control in my decision in reviewing the offers which came in, selecting my transporter based on my personal needs/criteria...

I had my puppy ship from Illinois to Georgia. The driver was very courteous he kept me informed with calls text and pictures of my puppy along the way. I highly recommend them.

Couldn't ask for a better experience. Tobey was fantastic the entire transition. The entire experience went smoother than I could have imagined.

Listed a trip for a service dog
Listed a trip for a service dog for a trip from Florida to New York and had 5 quotes within 15 minutes. Very easy to use website and a LOT of choices!

The best pet delivery service
Reliable dependable and accommodating beyond expectations would definitely use them again! Erica& Bill sent photo updates throughout the journey from Danville, CA to Los Angeles, CA

I didnt realize you could basically pay…
I didnt realize you could basically pay people to ship things. I needed to get my 12 year old pup to Maryland from Oklahoma, but I was about to move to the complete other side, California. Flying her only gave me nightmares. The site is well constructed and you put in your details, and drivers bid on the shipment. You can then review the shippers profiles and pick the one that best fits you. My driver and I had a miscommunication at first, but he quickly fixed it and gave me some of my money back for the mistake. Overall, a great service.
How to Prepare Your Pet for Transport
Whether venturing down the street or across the country, a move can be stressful for you and your pet. Make sure your pet is prepared for transport well ahead of time to reduce stress and make the logistics manageable.
Health Certificate
Before embarking on a journey, your pet must receive a health check from a veterinarian. Routes between states or countries require a document called a Certificate of Veterinary Inspection.The National Veterinary Accreditation Program issues the certificate, often abbreviated as a CVI.
When making an appointment for your pet, tell the veterinarian about your travel. Your vet will make sure your pet is up to date on any necessary vaccinations and medications. Before issuing the certificate, the vet will also look for potentially harmful parasites, like heartworm.
A health check with an issued CVI is usually required 30 days before pet travel. Some countries need specific certification from a veterinarian to ensure your pet is not carrying a potentially dangerous and infectious disease.
Keep in mind that many airlines will require a CVI at a minimum, and others may ask for additional health checks and certifications.
Documentation Requirements for Pet Travel
A CVI is required to transport your pet between state lines or internationally. Certain airlines could ask for additional required documentation. Some common additional required documentation could include:
Quarantine certificates
International Health Certificates
Acclimation Certificates (waiving the regulated temperature requirements for your pet)
Every destination and airline provider can be slightly different, so it is always best to check the current requirements before arranging transportation. While some states like California and Texas don't require a CVI, others like Washington require a rabies vaccination certificate instead of a health check. Illinois and Michigan require a CVI for dogs but not for cat transport.
Variations in required documentation are greater when traveling internationally. Always check with the local embassy of your final destination country to ensure you have the proper health certificates before travel.
Pet Crate
Before starting a journey with your pet, you'll want to consider the appropriate pet crate or kennel. A pet crate gives your pet a private, protected and contained area for travel. The crate you'll need will largely depend on your pet's size, the duration of the trip, and specific vehicle/airline size regulations. Some of the most popular cargo crate options include:
Hard-Sided — A hard-sided pet crate is one of the most popular types of pet cargo crates. These pet crates are usually made with hard plastic materials for the sides, with metal used on the front gate. Hard-sided pet crates can be heavier to transport but offer more protection. They're also easier to clean, give your pet more room and are often required for air transport.
Soft-Sided — Soft-sided pet carriers are ideal for smaller dogs or cats. These pet carriers are typically made from durable fabric and have a soft, foldable structure. Soft-sided pet carriers are easy to pack away when not used, and smaller styles can fit conveniently under an airline seat. The Center for Pet Safety will test and approve many soft-sided pet carriers, ensuring crash standards.
Wearable Carrier — A wearable pet carrier could be an excellent option for small pets traveling on a quick trip. These pet carriers come in several styles, including shoulder sling carriers or soft-sided backpacks. Wearable pet carriers are typically washable and portable and leave your hands free.
Permanent Fixture — A permanent pet forcrate fixture could be the best option if you frequently transport your pets in your vehicle. Designed for you to fit inside your vehicle, permanent fixtures have several benefits. They are long-lasting, durable and stay in place, saving time loading and unloading your pet. Plus, your pet will quickly become accustomed to a permanent fixture since it never changes.
Prepare Your Pet for Travelling
Preparing a pet for the move is the most important and time-consuming step for many pet owners. You want your pet to remain healthy, calm and safe throughout the process. Preparing for your trip ahead of time can help reduce stress for you and your pet.
To prepare your pet for travel, you'll want to:
Ensure your pet's identification tag is up to date with accurate contact information. While it's unlikely your pet will get lost during transit, you want your pet to be protected.
Have your pet microchipped before transport. Microchipping your pet is painless, quick and can be completed by most rescue shelters or veterinarians.
Check with your veterinarian to ensure your pet is healthy enough to travel and obtain your CVI. Pack your pet's medication with appropriate dosage instructions for your pet handler.
Provide your pet with enough food for the entire trip. Use a food they're already accustomed to. The trip can be stressful enough without having to adjust to a new food!
Take time to get your pet acclimated to its new crate. Getting your dog used to relaxing inside the crate can take time, so be patient. Gradually increase the time your pet stays inside the crate until it feels comfortable. Offering plenty of treats and praise can help expedite this process.
Moving your dog to a new location can be stressful. Not only are there new sounds, sights and smells, but your pet will undoubtedly feel your stress. You'll reduce your pet's stress and your own by taking steps to prepare ahead of time.
Home to the Best Pet Transport Companies
At CitizenShipper, we understand that pets are part of your family and take every measure to ensure safe delivery. Whether transporting your pet by vehicle or plane, drivers on CitizenShipper are ready to help. Our services help reduce your stress, making transport a smooth process for you and your best friend.
How Transport to Your Pet with CitizenShipper
Are you interested in a smooth transition to a new location for both you and your pet? Our services are easy to quote and reserve. With a few simple steps, you'll be well on your way to a safe journey to your destination.
Create an online account at CitizenShipper's website.
Detail your transport needs, including the start and end point and some basic information about your pet.
Receive free quotes from pet transporters, and choose the best one for you. You can rest assured that drivers on CitizenShipper are vetted and background-checked.
Negotiate the rate of transport with the driver via our internal messaging system.
Reserve your transport and pay the CitizenShipper success fee.
Meet your pet transporter on the day of transport for a successful, smooth handoff.
Moving your pet from one location to another has never been easier, safer and more efficient. Drivers on CitizenShipper are experts when it comes to ensuring a stress-free transition. Posting a listing or getting a quote on CitizenShipper is free; you don't pay until you book. Get a free quote now for safe and reliable pet transport.
Meet the drivers
16 completed
shipments so far
Nico & Mica were amazing! They transported my silver lab puppy from MN to ME... They're extremely on top of keeping you in the loop with the whereabouts in travel they are with your pup and very understanding when you ask lots of questions! I'd use them again in a heartbeat and I highly recommend them to anyone. Thanks again Nico & Mica ❤️
Get your pet on the road in three easy steps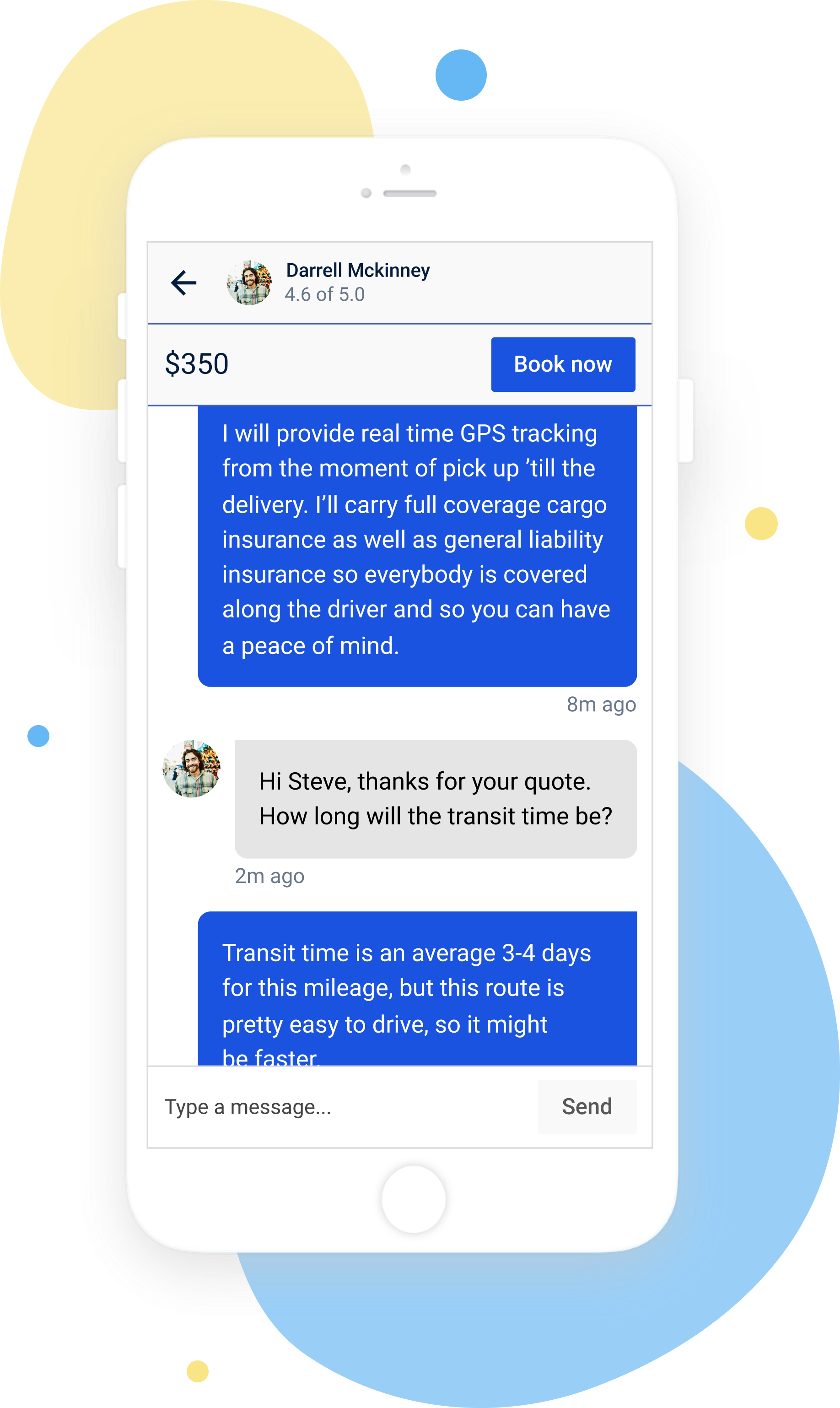 Select and ship with peace of mind
Stringent background checks4 .
USDA-certification and Driver ID verification.
Detailed profiles and customer reviews help you select with confidence.
Photos of drivers and their vehicles so you know who and what to expect.
Pet Protection Plans and 24/7 mobile access to veterinary care.
Drivers who have completed Pet First Aid certifications from the Red Cross.
Unmatched customer support for any questions or concerns along the way. We're here for you 7 days a week!
.
Frequently Asked Questions
Is it really free to list a pet shipment?
+
Absolutely. There are no "listing fees" involved. You don't pay a dime before negotiating the cost of transport with the driver you choose to hire.
How much does it cost to transport a pet?
+
The cost varies, depending mostly on the mileage. When drivers send in their quotes, it'll be up to you to choose whatever sounds reasonable. Typical rates are between $.5 and $1.60 per mile, but this can skew higher on shorter trips. Some shipments are more expensive than others: puppies, for example, require more attention so they often cost extra to transport.
How stressful is the journey for a pet?
+
For most animals, the stress of road transportation is kept to a minimum. For animals with elevated anxiety issues, please consult your veterinarian. If you want special attention paid to your pet, that's usually doable. Each driver offers a slightly different level of service — with a little extra effort, you can find people with animal care degrees able to provide your pet with the greatest level of comfort available.
How should I prepare my pet for the move?
+
Different animals have different requirements, but in general you should try to provide:
Basic car training: Try to make sure your pet is used to riding in a car and spending time inside a carrier crate.
Health certificate: Take the pet in for a check-up so the vet can verify they're fit to travel. Food supply: Pack their favorite snacks, but try not to feed the pet for 2-3 hours before they hit the road
Extras: If you can, also pack their favorite toys or blankets to keep them calm and comfortable.
Stellar customer support – anytime, anywhere