The last time you decided to transport a pet, you did it yourself? We'll wager that the process was overwhelming and stressful. You told yourself: "Never again!" Driving to another state or cross country alone is hard enough – adding a pet on the journey can feel impossible. This time, you've been researching online to see which pet shipping service is the best for you.
There are many options, and it can be stressful going online, researching, and deciding which one could be the right one for you. Sometimes you wish there was a pro and con list with all the prices, so you can compare every method available and make a decision.
Lucky for you, there is! You don't have to have seventeen tabs open on your web browser comparing and contrasting the different options and looking for the best possible method.
We'll outline the types of pet shipping services. From air travel to ground transport, there are several in the United States. We'll also weigh the pros and cons of each type of pet shipping service and what makes a pet shipping service good quality. We want you to pick the right one for you and your pet.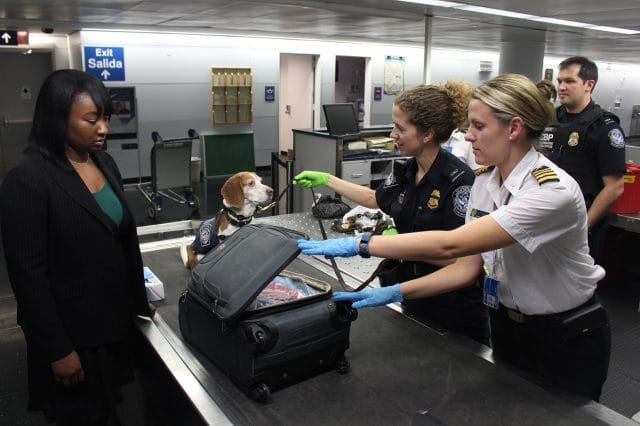 Types of Pet Shipping Services
There are many different types of pet (including for dogs and cats) shipping services, all with their own good things and bad. Deciding which one takes looking at all the pros and cons and the costs of each type.
Air Travel
Air travel could be the fastest way to transport a pet, although it can be logistically challenging. Transport companies offer complete air travel services. Smaller pets have the advantage because of their size. They can ride in the cabin since they can fit under the seat. Air transport companies take care of all the logistics, which means you don't have to lift a finger.
Things you should buy include your pet's carrier — a cost roughly running from $25 to $75, which needs to be small enough that your dog can fit inside and underneath the seat in front of you. The total one-way amount for airlines like United, Delta, and American sits at $125. However, air transport companies will include that cost in the total price of their services.
Larger pets must go in the cargo hold. These special crates cost an estimated $100-$200, and the cost of transporting your pet in the cargo hold can range from $500-$1000. The exact charges are determined at the time of booking. The air transport company will determine the total cost of shipping your pet once you've worked out all logistics.
Air Nannies
What is an air nanny? An air nanny gets hired to take care of your dog and fly it to your destination. It's the latest thing in pet transport, becoming very common in shipping pets long-distance. You can hire your very own Mary Poppins for your dog! Yes, there are air nanny services available in select companies. The air, or flight, nanny job recently exploded in popularity partly because of a viral TikTok video.
You'll have to buy a roundtrip ticket for the nanny, but the great news is that sometimes air nannies could have the ability to waive the pet fees, which can reduce what you have to pay. The air nanny can transport your pet in the cabin or cargo hold.
Traditional Ground Transport
A traditional transport service is another option to consider. Several factors will determine the cost:
Distance (the further the distance, the more it will cost).
Pet size/breeds (the larger the pet, the larger the cost).
Health documentation requirements.
Equipment needs.
There can also be specific requirements. For example, some transport services may not allow specific breeds or take exotic pets like certain reptiles or amphibians. The type of pet can be more expensive, as well.
Be careful not to fall victim to the trap of fake pet shipping companies. Look for warning signs, like using untraceable phone numbers or personal email accounts, and never give out personal information before doing proper research and vetting.
Qualities of a Great Pet Shipping Service
Visit the International Pet and Animal Transportation Association, also called IPATA. They post informative articles about pet travel, animal transport services, essential lists of trusted pet transporters, lists of scam companies that you should avoid and answers to frequently asked questions.
A great pet shipping service will usually have all of these essential qualities:
They take all types of breeds and pets (including exotic pets), and the prices are determined up front.
The best pet shipping service is one where an animal handler will always be with them — whether it is on the ground or on a plane — and there aren't other pets with yours.
All pet shipping services should adhere to the USDA's rules and regulations in pet handling, and if one does not, steer away from them.
Communication is essential for your pet's safety and your peace of mind. If the pet shipping service provides regular updates, that's a good sign.
The best pet shipping companies offer door-to-door delivery, which relieves the stress of dropping off and picking up your pet.
Excellent customer service means that the pet shipping service will take care of your pet as if it were their own. Pay attention to the small details and their customer service duties.
What Pet Shipping Service is Right for Me and My Pet?
You can't choose a pet shipping company just because of the pretty logo or because it's super cheap. You need to consider some things, so we've compiled a list of pros and cons.
Air Travel
Using an air transport company is an option that could be right for you. Air travel is the fastest way to transport an animal. The company takes care of everything, but it may be costly.
| | |
| --- | --- |
| PROS | CONS |
| Fastest way to travel | Most airlines may not take exotic pets |
| Small pets can fit under the seat and costs $125 | If you have big pets, they'll have to go in the cargo hold, which can cost over $500 |
| A small pet carrier will only cost around $50 | Airlines require a special crate for cargo hold animals that can cost up to $200 |
| You can hire an air nanny to take care of flying matters. | Air travel in the cargo hold can be a traumatic experience for your animal |
| | Even with small pets, a traditional company will have extra fees, including the transporter's ticket, added to the final bill |
Using Ground Transport
Using a traditional ground transport company is an option that could be right for you. It's important to do your research because many fake shipping companies exist. There are several variables to consider with a traditional ground transport company.
| | |
| --- | --- |
| PROS | CONS |
| There are a variety of choices/companies to choose from on the internet | They may not take certain breeds or animals, or they could charge hefty fees for certain breeds or exotic pets |
| They can provide air travel, as well as ground transport | They can charge extra depending on distance, pet size, and equipment needs |
| | They could take many pets on their journey, which may be dangerous for your pet |
| | They can be more expensive than other options |
Product Recommendations for Pet Transportation
Transporting a pet is hard work. It shouldn't be overwhelming or stressful. But after securing the travel method, the next thing on the agenda is buying products for the journey. You can always go online and research, but we thought we'd help you out with some product recommendations for your pet's long trek.
For cats
Morpilot Cat Carrier with Locking Safety Zippers & Foldable Bowl
It's a breathable and safe design that can be safe for your cat.
The carrier is simple to clean.
The carrier has wide use with an adjustable strap that is perfect for transporting your cat.
For Dogs
These chews taste like a treat, which means dogs will love them.
They help with all types of anxiety.
These chews, made for dogs of all sizes, include Melatonin, Chamomile, Passion Flower, Thiamine, L-Tryptophan, and Ginger.
For Cats and Dogs (and Other Pets!)
Airline-Approved Pet Travel Bag
It's durable and safe, as well as water repellent.
It's multi-functional with lots of storage, which is essential for travel.
It can conveniently carry food, water, leashes, and other essential items for your pets.
For Birds
Travel Carrier Cage for Parrots
Weighing just 13 pounds, this cage is lightweight and portable.
Sturdy and long-lasting, which is great for all travels.
Easy to assemble.
For Exotic Pets
Foldable Terrarium Kit with Plants
The terrarium is comfortable and breathable for all types of animals placed in the cage.
A heating lamp can be used for those animals needing heating and cooling.
The terrarium has wheels you can put on for easy transport.'
How CitizenShipper Helps You Find a Pet Shipping Service
As you can see, there are many modes of transportation for pet shipping. The next step is to pick one. However, some may be too pricey or complicated, especially a traditional pet shipping service. After looking at all the options, you should consider listing a shipment on CitizenShipper's pet transport marketplace! Our platform offers many advantages over traditional pet transporters.
Once you post a listing on our site, a fleet of background-checked drivers — many of which are USDA-verified, will send you quotes within minutes. 
You can compare bids and chat with several drivers across our network, and once you choose the driver you like the best, you're ready to book your trip.
Because the driving range can be broad, we charge a modest fee that varies per mileage, which accounts for our vetting process
We also have air nannies on our marketplace, which can make things a lot easier and affordable for flying with a dog or cat.
We pride ourselves in making pet shipping run the way it should — safe, seamless, and stress-free. We want your beloved pet to be in good hands with the drivers on CitizenShipper.
Because drivers compete for your business, we can save you up to 60-70% compared to traditional shipping companies! CitizenShipper also provides some added benefits for you, so you're even calmer — up to $1,000 pet protection guarantee, Booking Assurance Guarantee, direct communication with the driver who provides updates and 24/7 TeleVet access through our partner FirstVet. The best thing? There are no hidden fees!
The Bottom Line
There are so many deciding factors that you need to consider before deciding which pet shipping service is the best for you. It can be tricky, because we know how much your pet means to you. After all, they are part of the family. Finding the right one at the right price can be hard work.
The alternative is booking a driver through CitizenShipper's marketplace. It is safe and secure, and drivers on CitizenShipper know your pet means everything to you. They will ensure proper, loving care during the trek, whether long or short.
When you trust drivers on our CitizenShipper network, remember this: you will have peace of mind knowing your pet is in the best of hands. A pet shipping service shouldn't be something to pull your hair out for. Here at CitizenShipper, we got you covered. Starting the process today will be a game changer for you. Post your pet's transport info today and get free quotes in minutes!
---
This post contains affiliate links. Read more here.

Patrick Macfarland has been a teacher, a candidate for public office, and a local tour guide. But now he dedicates his time writing full-time, currently at CitizenShipper and VeraContent.