Reviews for Sharon C in Harrison,MI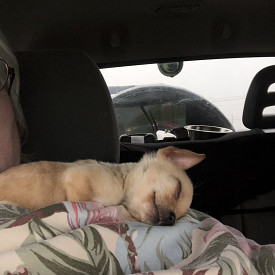 based on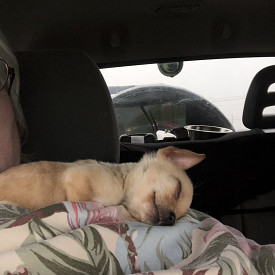 13 months on CitizenShipper
30 completed shipments so far
Cancellation rate: 0% in the last 4 weeks.
Contract Name:

Shipment from South Boardman


Rating:

5/5




Date:

Dec 09, 2018


Route:

From South Boardman, MI to Muskegon, MI


Distance:

108 Miles


Comment:

Sharon was great at communicating, and she was timely in both pick-up and delivery. I would recommend her for your pet transportation needs.
Contract Name:

Shipment from Overland Park


Rating:

5/5




Date:

Dec 08, 2018


Route:

From Overland Park, KS to Colorado Springs, CO


Distance:

544 Miles


Comment:

Very good experience.Very professional.Great communications.On time.Highly recommend.Fair on thier pricing too.
Contract Name:

Medium dog from Boston


Rating:

5/5




Date:

Nov 12, 2018


Route:

From Boston, MA to St. Louis, MO


Distance:

1036 Miles


Comment:

Highly recomended! Sharon and her husband really made the whole experience for my dog from Boston to St.Louis so much easier. Thank you!
Contract Name:

Power Boats from New London


Rating:

5/5




Date:

Nov 06, 2018


Route:

From New London, WI to New York, NY


Distance:

792 Miles


Comment:

very nice people to deal with. they were on time and professional. i would recommend them to anyone.
Contract Name:

Cats from West Bloomfield Township


Rating:

5/5




Date:

Nov 06, 2018


Route:

From West Bloomfield Township, MI to Silver Spring, MD


Distance:

412 Miles


Comment:

Sharon was so WONDERFUL!!!! My Mom had just passed away and it was her dying wish that I take care of her 2 cats (who were like her children). My Mom lived almost 600 miles away from me and I was unable to get them myself. I spent a week calling EVERY long distance pet transport business, company, person, etc. that I could find online. Every option was so expensive and I didn't feel comfortable with anyone I spoke to. I had to find someone i could completely trust; I wouldn't settle for just anyone to bring them; this was very precious "cargo". As I was feeling hopeless and about to give up I found out about Citizenshipper. Sharon was the 1st person I looked at. I immediately had a good feeling after our first few messages. I was a nervous wreck and she was there for me via email and by phone even before the scheduled trip. She was SO supportive and reassuring and I was much less nervous on the day of the transport. On the scheduled day, Sharon texted me throughout the day and sent pictures of the cats. After she picked them up from my Mom's house (which I wasn't at) and actually got them both in her vehicle without any problems, I was no longer nervous. I knew they were in great hands and I just couldn't wait for them to arrive. They arrived safely that same evening and they looked so happy to see me. I cried tears of joy and I could not thank Sharon enough. Finally having my Mom's cats with me meant everything to me. I HIGHLY recommend Sharon for any transport!!!
Contract Name:

Small dog from Whittemore


Rating:

5/5




Date:

Nov 06, 2018


Route:

From Whittemore, MI to Lancaster, SC


Distance:

675 Miles


Comment:

The drivers were excellent! They transported our puppy from Michigan to North Carolina. They were timely and good people. Would highly recommend.
Contract Name:

Small dog from Mammoth Cave


Rating:

5/5




Date:

Nov 05, 2018


Route:

From Mammoth Cave, KY to Marysville, OH


Distance:

258 Miles


Comment:

Sharon and Chris were very responsive and awesome at communicating with me. I was very hesitant at first because I have never used a service like this before and due to a negative review. She gladly explained what happened but unfortunately she doesnt have the opportunity to address negative reviews. They were right on time picking my puppy up from the breeder. They sent me several pictures throughout the trip showing how she was doing. They arrived early but I was unable to meet early so they waited for me. They were very friendly and there were no incidents at all. I would not hesitate to use them again.
Contract Name:

Cats from New York


Rating:

5/5




Date:

Nov 05, 2018


Route:

From New York, NY to Mendota, IL


Distance:

786 Miles


Comment:

Highly recomended: prompt, thoughtful, and constant communication.
Contract Name:

Small dog from Salvisa


Rating:

5/5




Date:

Oct 12, 2018


Route:

From Salvisa, KY to Metairie, LA


Distance:

618 Miles


Comment:

The driver was very responsive during the transport and coordinated the delivery flawlessly.
Contract Name:

Shipment from Schiller Park


Rating:

5/5




Date:

Sep 26, 2018


Route:

From Schiller Park, IL to Pleasant View, TN


Distance:

387 Miles


Comment:

The service was great and the transportation of my pet chinchilla was fast. I really appreciate your service, thank you very much.
Contract Name:

Cats from Meadow Valley


Rating:

5/5




Date:

Sep 08, 2018


Route:

From Meadow Valley, CA to Oklahoma City, OK


Distance:

1316 Miles


Comment:

I shipped three cats, a classic car on a trailer, and a pickup-load of boxes of books, collectibles, and personal items from northern California to my ex in Oklahoma City. First, their price was great in my opinion. Second, Sharon worked with me by text/phone patiently and tirelessly while I tried to decide how much stuff I actually wanted to ship (did I want to pay for the car namely?) She even got price quotes for me from U-Haul to help me decide. Once we had the decision of what to ship, Christopher arrived on time.... but we weren't ready yet. He was very patient in waiting while we finished loading the car on a U-Haul trailer, then helped us put the boxes into trash bags to keep them dry (the back of his truck was open to the weather, and they insisted we protect them with plastic) and load them. We had mishaps along the way that weren't his fault (we locked the keys in the car we were shipping, and had to call our tow-company friend to come do a lockout for us). The driver took this all in stride, even though he didn't get out of our yard till after dark, a total of about 3 hours from when he arrived. Once on the road, he let the cats out of their carriers to enjoy the ride (but if you want your pets left in their carriers, they will do whatever you want.) On the other end, he had to deal with limited help to unload (in the rain), patiently waited while my ex and a friend tried to tow the car off the trailer with a pickup, and finally had to call a tow truck, which wouldn't be there for two hours! All this, and they've still offered to do another load for us if we need it in the future!! These are down-to-earth, honest, hard-working folks, I can't say enough good about them! Would definitely use them again!
Contract Name:

Large dog from Indianapolis


Rating:

1/5




Date:

Sep 07, 2018


Route:

From Indianapolis, IN to Seattle, WA


Distance:

1870 Miles


Comment:

Citizen shipper encouraged me to write a review. I'm not a fan of negative reviews. I wish my experience was better. While sharon was nice and easy to work with, I thought for weeks about writing this review and decided that you should know what you are getting into. On the first day, sharon texted me to tell me my dog had given the driver fleas. This was impossible as my dog had been given Trifexis before the trip. When my dog arrived, he was covered in flea bites and it was evident from the driver's legs, which were covered in scabs and bites that the driver had fleas log before my dog had gotten in the vehicle. Its clear my dog had been stressed for 3 days in the cars getting bit by fleas. The bites were everywhere. The second day, sharon texted me asking me to wire money as they were not going to make it with out cash. I was scared that I wouldnt get my dog if i didn't run to wire money. Sharon had agreed to a 30 minute warning of when the driver would arrive. I reached out because I felt it had been too long and was told the driver was already in the neighborhood. When I rushed home to meet him, he was not there. J called and called and when I finally got a hold of someone, I was told he couldnt find my house and he was at a nearby park. I searched one park top to bottom before in got another text saying they were at a school. Luckily I found them at the first school google came up with. I knew he was teething so i asked if i could provide any chews or a crate. They said they prefer not to crate their animals and provide them chew toys to keep them busy. When I met him, he showed me where my dog had chewed up his car interior. I'm not sure why. Maybe he'd hoped I'd offer to pay to fix it? Lastly, I requested my dogs vet records from the breeder and they were quick to anger and shock as they told me they supplied the driver with a binder of all my dogs records and mementos. The driver never gave me this and must still have them. They never reached out to send them to me either but they did ask me to write a review. My dog is still weary of cars. I would not recommend this courier. My bleeding heart doesn't wish them any ill will. I just hope they bug bomb their vehicle and take better precautions with their finances.
Contract Name:

Shipment from New York


Rating:

5/5




Date:

Jul 08, 2018


Route:

From New York, NY to Miami, FL


Distance:

1094 Miles


Comment:

What a seamless and pleasant experience we had with Sharon and Chris!! We are so thankful for this service! Chris arrived on time in Manhattan to pick up our hamsters and arrived on time to drop them off in Miami for us; he even played with the hamsters while he had them and was very caring about their needs. Sharon was easy to communicate with and it all felt very easy (much easier than trying to figure out how to fly the hamsters down!) She sent me pictures of them and let me know how they were doing en route. Loved that! Overall 5 star experience that I definitely recommend!
Contract Name:

Medium dog from Sault Ste. Marie


Rating:

5/5




Date:

Jun 16, 2018


Route:

From Sault Ste. Marie, MI to Chicago, IL


Distance:

364 Miles


Comment:

Great communication. On time as promised. Could not have asked for anything better. I am 110% satisfied and happy and can highly recommend their service to anyone needing to ship a pet and want to know that it is in great and gracious hands. Thank you!
Contract Name:

Shipment from Dayton


Rating:

5/5




Date:

Jun 06, 2018


Route:

From Dayton, OH to Wilkes-Barre, PA


Distance:

448 Miles


Comment:

Very kind and caring driver! :)
Contract Name:

Medium dog from Wilburton


Rating:

5/5




Date:

Jun 03, 2018


Route:

From Wilburton, OK to Curran, MI


Distance:

914 Miles


Comment:

This is the first time I have ever used a shipping service. Sharon was quick to respond and gave a reasonable offer. She also answered all my questions. The shipment arrangement was made for Friday. Christopher was awesome! He arrived in good spirits and was friendly and easy to talked to. He was very good with my puppy. They sent some pics of the puppy (Wilma) along the way and sent a message when she was delivered. Thank you Sharon and Christopher for making this an awesome experience for me. I will be calling for your service again.
Contract Name:

Medium dog from Detroit


Rating:

5/5




Date:

Apr 27, 2018


Route:

From Detroit, MI to Boston, MA


Distance:

612 Miles


Comment:

Sharon and Chris were amazing! It was a last minute shipment for them and they were more than willing to make the drive from Detroit to Boston. There was a problem with my payment to them (my fault) and they were completely understanding and trusted that I would find a way to pay them, which I did. They were always in constant contact with phone calls, texts, and pictures and very pleasant to work with. They arrived ahead of schedule and delivered my beautiful pup to me! Such sweet people, recommended to all!!! 5 stars!
Contract Name:

Medium dog from Spring Lake


Rating:

5/5




Date:

Apr 10, 2018


Route:

From Spring Lake, MI to West Milford, NJ


Distance:

621 Miles


Comment:

Sharon was very prompt and fair with her quote, and the transport of our puppy from Michigan to New Jersey was arranged for the next business day. Christopher arrived exactly when promised, and was very professional, courteous, and compassionate. His pickup truck was clean and appeared to be in excellent condition, and was all set up with blankets and bowls in the back seat for our pup. They arrived at their destination ahead of schedule the next morning, safe and sound. Christopher was kind enough to provide us several updates by phone along the way, including a call when the delivery was complete. Of course, we were a bit anxious sending our little pup off on this 'adventure,' but Christopher certainly put us at ease and left us confident that the experience was as comfortable as it could have been for her. I would certainly use their services again, and recommend them highly for prompt and reliable pet transportation.
Contract Name:

Shipment from Hazel Park


Rating:

5/5




Date:

Mar 15, 2018


Route:

From Hazel Park, MI to Mobile, AL


Distance:

862 Miles


Comment:

Our move was last minute but they took care of us.They made themself available to us and our pets and got us the 1002 miles to our new home.Our driver was prompt and friendly professional and courteous and we highly recommend them to anyone.Thanks so much Christopher and Sharon our pets thank you as well.????
Rating:

5/5




Date:

Mar 13, 2018


Comment:

Sharon C is now part of our certified driving team, offering you the most trusted and secure transportation available.
Drivers who join CitizenShipper are screened for a variety of criminal offenses and driving incidents. We utilize a reputable leader in screening called Single Source Services to perform our criminal background screening which includes national, county level and sex offender databases. The background screening we utilize is called the 'Discovery National'.
What we look for with the background screening:
No felonies in the past five years
No felonies in the last ten years involving theft, assault or violent crime
No DUI within the last five years
No patterns of misdemeanors in the past ten years relating to DUI's, theft, assault, or violent crimes.
No outstanding warrants for arrest
Does not show up in national sex offender registry
The background screening includes a residence trace and returns all names and addresses associated with a social security number, in addition to checking the alias(es) returned through the database and the sex offender data.
Based on the subject's name(s) and date of birth the data returned from the background screening are records from State Departments of Correction, State Record Repositories, County Courts, and sexual predator/violent offenders' databases from all 50 states, DC, Guam, and Puerto Rico. Although this search has great value, and the volumes and sources of data are increasing almost every day, it is not an FCRA compliant service. The data is not updated after being entered into the database and therefore records could be expunged, sealed, or verdicts could have been appealed.
While we believe that the Discovery National is a good foundational screening tool, it is not an exhaustive statewide search of records, and as such we cannot guarantee 100% effectiveness in screening candidates.
×