Reviews for Robyn N in Chicago,IL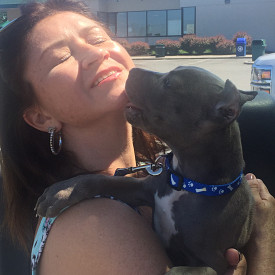 based on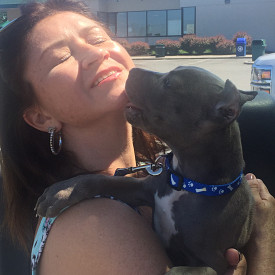 6 completed shipments so far
Contract Name:

Cats from Denver


Rating:

5/5




Date:

Jul 02, 2018


Route:

From Denver, CO to East Lansing, MI


Distance:

1085 Miles


Comment:

Robyn is very professional and truly loves transporting animals. My cat hates car rides and somehow Robyn made her very calm. Robyn sent many updates and was very reliable. So kind, couldn't recommend more highly :)
Contract Name:

Cats from Chicago


Rating:

5/5




Date:

Jun 30, 2018


Route:

From Chicago, IL to Edgewater, CO


Distance:

909 Miles


Comment:

Robyn did a great job driving my 10 year old cat from Chicago to Denver. Her fee was reasonable and she made it in two days, even braving the crazy Colorado weather. We are so thankful for Robyn! If I had a need to use a pet transport company again, I wouldn't hesitate to call on her!
Contract Name:

Cats from Stamford


Rating:

5/5




Date:

Jun 24, 2018


Route:

From Stamford, CT to Port St. Lucie, FL


Distance:

1028 Miles


Comment:

How lucky were we to find Robyn. We could not have asked for a better solution for transporting our 2 cats to Florida. Responsive, timely and took great care of Dot and Riley on their adventure south. Provided text and picture updates along the way. Would highly recommend Robyn for any pet transport. Very Happy in Florida
Contract Name:

Small dog from Evanston


Rating:

5/5




Date:

Jun 09, 2018


Route:

From Evanston, IL to Durham, CT


Distance:

774 Miles


Comment:

Robyn was amazing, don't use anyone else, book her ASAP ! She drove my yorkie from chicago to conneticut then she donate's the money she make's toward an animal rescue of your choosing. She is 100 stars out of 1-10
Contract Name:

Small dog from Yorkville


Rating:

5/5




Date:

Apr 02, 2018


Route:

From Yorkville, IL to Naples, FL


Distance:

1134 Miles


Comment:

Robyn was absolutely fantastic! She went above and beyond the call of duty. She helped me transport my Mom's dog from IL to FL at last minute and was an absolute pleasure to work with. She sent tons of updates and pictures as well. I highly recommend her.
Contract Name:

Cats from Miami


Rating:

5/5




Date:

Mar 30, 2018


Route:

From Miami, FL to Mason City, IA


Distance:

1407 Miles


Comment:

She's such a sweetheart and knows her way around most animals. It showed with his well she handled my 2 cats. She's also very prepared with a large carrier, food, and water to last the trip. She puts the animals comfort and safety first as well. Absolutely womderdul!
Rating:

5/5




Date:

Mar 24, 2018


Comment:

Robyn N is now part of our certified driving team, offering you the most trusted and secure transportation available.
Experience:
I am an animal rescue volunteer, foster, adoption counselor and transporter. I volunteer transporting rescue animals from high kill shelters to rescues, fosters and forever homes across the United States. I work with NITT (Northern Illinois Transport Team), The Cat's Meow, Imagine Home, Dog Ranch Transport, CACC Transport Team, UKKRN and other groups on request. I've completed hundreds of volunteer transports, but I have recently joined this group to help more animals reach their forever homes. References are available upon request. I have been driving approx. 30 years and am passionate about animals of all types and sizes. I foster animals and will care for your furrbaby as if he or she is my own :) I come prepared with pet supplies, crate, bedding, fresh water, bowls, a new toy (if you permit), first aid kit, leash, collar and treats. I ask that your pet is up-to-date on vaccinations and that you provide evidence of rabies tag for transport as well as any special dietary needs. A house is not a home without the unconditional love of an animal. I base my transport fees on the amount it will cost me to cover my expenses and give back to animal rescue. I request a deposit upon pick-up with the balance due upon destination. I accept PayPal, Venmo, Chase QP and cash payment. If I work with you, I will also donate a portion of the transport fee to a NFP animal rescue of your choice. Before I accept a transport, I want to make sure it is a good fit for both your pet and me so I will reach out to you to get additional details about your furrbaby. Your pet's comfort and safety are top priority. I look forward to helping you with your pet's transport needs.
Vehicles:

I have a four-door Jeep Liberty with a hatch back with seats that fold down. Jeep is also 4 and 2 wheel drive for inclement weather. Your pet can be crated, kenneled, leashed or comfortably seated on our transport so long as he or she is safe. Your pets safety and comfort is top priority.
Screening & Safety:
Email verified
Address verified
Phone verified
Background check
Drivers who join CitizenShipper are screened for a variety of criminal offenses and driving incidents. We utilize a reputable leader in screening called Single Source Services to perform our criminal background screening which includes national, county level and sex offender databases. The background screening we utilize is called the 'Discovery National'.
What we look for with the background screening:
No felonies in the past five years
No felonies in the last ten years involving theft, assault or violent crime
No DUI within the last five years
No patterns of misdemeanors in the past ten years relating to DUI's, theft, assault, or violent crimes.
No outstanding warrants for arrest
Does not show up in national sex offender registry
The background screening includes a residence trace and returns all names and addresses associated with a social security number, in addition to checking the alias(es) returned through the database and the sex offender data.
Based on the subject's name(s) and date of birth the data returned from the background screening are records from State Departments of Correction, State Record Repositories, County Courts, and sexual predator/violent offenders' databases from all 50 states, DC, Guam, and Puerto Rico. Although this search has great value, and the volumes and sources of data are increasing almost every day, it is not an FCRA compliant service. The data is not updated after being entered into the database and therefore records could be expunged, sealed, or verdicts could have been appealed.
While we believe that the Discovery National is a good foundational screening tool, it is not an exhaustive statewide search of records, and as such we cannot guarantee 100% effectiveness in screening candidates.
×