Reviews for PET TRANPERDATION in Aransas pass,TX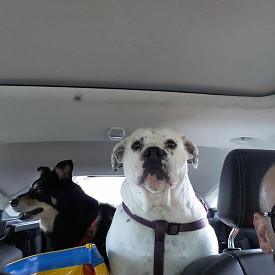 PET TRANPERDATION
Aransas pass, TX
based on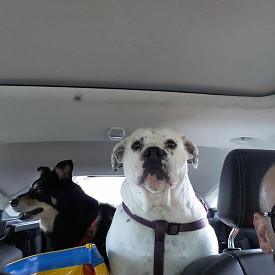 15 months on CitizenShipper
7 completed shipments so far
3 cancelled shipments
Contract Name:

Large dog from Lakewood


Rating:

5/5




Date:

Oct 07, 2017


Route:

From Lakewood, CO to North Lauderdale, FL


Distance:

1707 Miles


Comment:

Brandon did an amazing job transporting our 2 medium sized dogs from Colorado to Florida. Brandon was able to pick up our dogs on the day that worked best for us and arrived in Florida with our dogs the same day we flew out to Florida. We were provided photos and updates of our dogs along the journey, which helped to ease our nerves. We found it easy to get ahold of Brandon if/when we had questions and he always answered any questions we had. If we had to do it again, Brandon would be the first person we contact.
Contract Name:

Cats from Frisco


Rating:

1/5




Date:

Sep 17, 2017


Route:

From Frisco, TX to Bradenton, FL


Distance:

943 Miles


Comment:

SHIPPERS BEWARE!!!!! If I could given zero stars I would have. DO NOT BOOK THIS DRIVER! After placing a bid on my shipment and going through the details, I accepted the drivers bid. I reconfirmed everything once I accepted the drivers bid. We then connected briefly over personal emails. As my shipment date got closer I reached out to try to discuss the details of my shipment with my driver in more detail. I tried to call my driver and his number went straight to voicemail every time. I must have called 10+ times. I triple confirmed I was calling the right number which I was. I sent not one but four emails attempting to get the driver to respond to me and contact me to discuss the details of my shipment. And still no response back. I also tried to contact him through Citizen Shipper's website but still nothing. I'm not sure about you but this is not the way one goes about conducting a proper business transaction. Also, it's not like I was shipping inanimate objects. I was shipping my beloved cat. He put me in an awful position and at the last minute I had to rearrange my plans and figure out alternative plans for transporting my cat from Texas to Florida. This trip has already been stressful enough given Hurricane Irma. To have the stress increased by this driver going dark on me was completely unacceptable. If an emergency came up and he could no longer complete my shipment, I would have completely understood and all he would have needed to do was to contact me to discuss. But instead he ignored me. I am so beyond disappointed and upset with my experience with this driver. I very seldomly leave negative reviews but given this situation, I felt it was imperative to let others know what happened to me so that they can be cautious with accepting him as their driver. The only positive outcome of this whole ordeal is Citizen Shipper took ownership of this situation and refunded me my deposit which I'm very grateful and appreciative of.
Contract Name:

Cats from Hollywood


Rating:

5/5




Date:

Jul 03, 2017


Route:

From Hollywood, FL to Boston, MA


Distance:

1240 Miles


Comment:

Brandon was a godsend. he was professional kind and made a terrible situation of the need to get my sister who passed from florida to boston so much better. he was so kind to the kitty and kept me up to date with pics and phone calls the whole way. the price he charged for individual pet transfer was excellent and more than fair. I cannot thank him enough he delivered one stressed out kitty as fast as he possibly could and kitty is now happy in his new home. Hire Brandon for your next pet transport for sure!
Contract Name:

Medium dog from St. Louis


Rating:

5/5




Date:

Jun 27, 2017


Route:

From St. Louis, MO to San Diego, CA


Distance:

1562 Miles


Comment:

Brandon is the guy you want for this!!! He was very polite and actually cared about my dogs. He did a fantastic job and was very thorough. Despite some challenges with my schedule he was able to adapt and make it work for me. I would hire Brandon again in a second!!!!
Contract Name:

Large dog from Tempe


Rating:

1/5




Date:

Jun 13, 2017


Route:

From Tempe, AZ to Orlando, FL


Distance:

1833 Miles


Comment:

Do not trust this clown. Brandon is a deceiver and lies. He received his money but backed out at the last moment, because I am a cop and I asked to see his ID when he gets here. He even offered to deal with cash rather than going through the website to avoid fees.( unethical ) He agreed on the shipment, we were even in contact until he decided to move on with my shipment. then he stopped answering his phone and ignored all of my calls, 2 days later he decided to give a ridiculous reason. The company does not give your refund and in fact, I do not recommend this website at all, because of this kind of problem.
Contract Name:

Medium dog from El Paso


Rating:

5/5




Date:

Jun 04, 2017


Route:

From El Paso, TX to Fayetteville, GA


Distance:

1284 Miles


Comment:

Brandon is the guy you want to ship your pets...Brandon helped me and my wife ship our dogs to our parents house while we are transitioning out of the army...he kept us updated every stop with phone calls and pictures....Great guy all around...felt like family...I strongly recommend you pick him to ship your pets!
Contract Name:

Small dog from Stillwater


Rating:

5/5




Date:

May 22, 2017


Route:

From Stillwater, OK to Durango, CO


Distance:

603 Miles


Comment:

AMAZING x 1000!!! Brandon was so helpful! This was the first time my husband and I have ever looked to have a dog transported, and thank goodness our first trip was with Brandon! He checked in with us on his way to get our labradoodle, to let us know if he was on schedule or if he had any set backs. And once he got our doodle, he sent pictures and called every time he stopped to let him out to play! This is the person hands down that you want your dog be traveling with!! Thank you again Brandon!!
Contract Name:

Medium dog from Corpus Christi


Rating:

5/5




Date:

May 09, 2017


Route:

From Corpus Christi, TX to Eagan, MN


Distance:

1206 Miles


Comment:

Very professional and timely! Delivered my Rottweiler Mix from Texas to Minnesota very quickly and with no problems. Would recommend to anyone moving an animal. Also has plenty of room in his vehicle for animals to rest while transporting.
Contract Name:

Small dog from Miami


Rating:

5/5




Date:

May 03, 2017


Route:

From Miami, FL to Lawrence, KS


Distance:

1264 Miles


Comment:

I had been looking for someone to ship my puppy from Florida to Kansas. I posted my shipment dates, and Brandon respond within a day! It was such a relief especially since it was on such short notice. He got to him right away; while picking him up he provided my little guy with a collar and leash for his pit stops. He even let him ride in his lap, so no crate was necessary :D and keeping me posted with pictures, and eta made things smooth. Brandon was awesome, Im happy to be his first customer. Will definitely use again.
Rating:

5/5




Date:

Apr 27, 2017


Comment:

PET TRANPERDATION is now part of our certified driving team, offering you the most trusted and secure transportation available.
Experience:
Medical courier for several years . Roadside assistance supervisor for several years .. Uber driver .. ITow truck operater. Animal transport for 3 years unfortunate my parents were unable to keep the business due to age so I'm in trying to keep it going and help anyone I can. I love animals also understand the owner and pet relationship can be like a child ..I have a boxer pug terrier and mastiff and a lot of cats. I love animals and would keep anyone up to date the entire trip .. All I need is the opportunity to earn your business. I know i don't have reviews yet . its because I just found the site . Everyine starts somewhere so please give me a chance ?? I WILL NOT LET U DOWN. Pets will be riding in A/C the whole time. Also get frequent stops for restroom and time to walk and stretch their legs. Also fed and watered as needed. On mpay trips once I pick up my co rider it will only be the one pet at a time so they they have my full devoted attention throughout ... Ala I mist trips once I get them I will drive until the job is complete . I will keel you updated as often as u woukd like and u will have my cell and can call anytime throughout ... Now that I've been doing it on this site for bit I've upgraded a few things for PETS comfort big soft bed . More open space built in feeder since we all know PETS are nervous away from their owner and don't eat sometimes. Well this gives them the option to eat when they are ready.also personal pet fan just Incas yours little one gets hot easy . STILL riding free in a.c. some are hotter than others.. Windows to look out toys to play with. In trying to step it up for the comfort of you and your pets. ALWAYS REMEMBER YOU GET THE SERVICE YOU PAY FOR .. IF THE BID IS REALLY LOW THEY PROBABALY HAVE A STACK OF ANIMALS TREATING THEM LIKE A 50 $ ITEM .. NOT A PART OF YOUR FAMILY .. I also have many good refrences from customers breeders Cat rescue orginization out of florida. Upon request .Thank you for your time ..
Vehicles:

2012 ford focus SEL . GPS. Excellent fuel efficiency . Hatchback fold down seats. Reliable . Also some pictures of where your animals will ride dog or cat beds can be included if needed. Space to move food and water . My full attention . play toys to make it an enjoyable ride..

DBA:

PET TRANPERDATION
Screening & Safety:
Email verified
Address verified
Phone verified
Drivers who join CitizenShipper are screened for a variety of criminal offenses and driving incidents. We utilize a reputable leader in screening called Single Source Services to perform our criminal background screening which includes national, county level and sex offender databases. The background screening we utilize is called the 'Discovery National'.
What we look for with the background screening:
No felonies in the past five years
No felonies in the last ten years involving theft, assault or violent crime
No DUI within the last five years
No patterns of misdemeanors in the past ten years relating to DUI's, theft, assault, or violent crimes.
No outstanding warrants for arrest
Does not show up in national sex offender registry
The background screening includes a residence trace and returns all names and addresses associated with a social security number, in addition to checking the alias(es) returned through the database and the sex offender data.
Based on the subject's name(s) and date of birth the data returned from the background screening are records from State Departments of Correction, State Record Repositories, County Courts, and sexual predator/violent offenders' databases from all 50 states, DC, Guam, and Puerto Rico. Although this search has great value, and the volumes and sources of data are increasing almost every day, it is not an FCRA compliant service. The data is not updated after being entered into the database and therefore records could be expunged, sealed, or verdicts could have been appealed.
While we believe that the Discovery National is a good foundational screening tool, it is not an exhaustive statewide search of records, and as such we cannot guarantee 100% effectiveness in screening candidates.
×