Reviews for Morgan Transport in Crowley,TX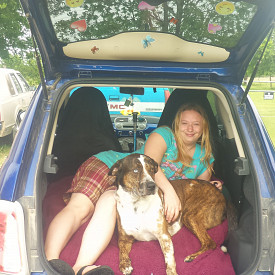 Morgan Transport
Crowley, TX
based on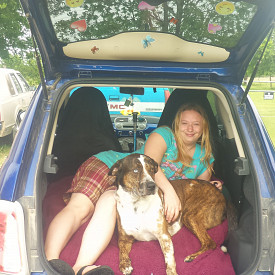 18 months on CitizenShipper
Cancellation rate: 0% in the last 4 weeks.
Contract Name:

Medium dog from Spring


Rating:

5/5




Date:

Mar 29, 2017


Route:

From Spring, TX to Santa Ana, CA


Distance:

1332 Miles


Comment:

Charlene and her husband were kind and gentle with our skittish pup, Kali. They got my 4 pets from Texas to California in record time. Everyone arrived safe and happy. I highly recommend them!
Contract Name:

Medium dog from Houston


Rating:

5/5




Date:

Mar 13, 2017


Route:

From Houston, TX to Coraopolis, PA


Distance:

1137 Miles


Comment:

They did an amazing job and were very timely. I would use them again.
Rating:

5/5




Date:

Mar 01, 2017


Comment:

Morgan Transport is now part of our certified driving team, offering you the most trusted and secure transportation available.
Experience:
****WE EXPECT FULL PAYMENT AT TIME OF PICK UP [Open to partial payment negotiations] (We accept all major credit cards. No checks please)**** Our main goal is delivering animals safely. We have two teams, Enabling us to drive twice the distance in less time. We all have many hours of volunteer work at different shelters and rescues in our area. Charlene: Has worked as a vet tech in a local animal hospital as well as having medical assistant training, which greatly helps with animals as well. Driving experience is more local but we are willing to take longer trips. An excellent driving record and a clean back ground. Employed through many different delivery services. Those include Pizza Delivery, Phone book delivery, large bundle paper delivery from Dallas Morning News in Plano Tx to Waco Tribune and also an active Uber driver. I live on a small farm with way too many animals but wouldnt let go of any of them. I love all animals large and small and I welcome exotic animals as well. In most cases I am very accommodating but some cases I may need your fur baby to be in its own travel container. My vehicle is a hatch back with back seats that lay down. I have a lite fencing between cab and back seats, leaving plenty of room for those trying long trips. I have a large or small kennel for those animals that dont travel well and experienced in medicating, if the shipper and receiver feel it is necessary, you must provide the medicine as well as a hand written note stating I am able to administer any kind of medicines. Theres nothing I wont do to make your fur babies comfortable through their transition. My vehicle is stocked with healthy food, treats and bottled water. Extra leashes and for the really friendly babies I even climb in back and keep them company. For those who wish to send extra items in most cases I can accommodate those things too. In fact I encourage it as the smell of their own belongings make them less anxious.
Vehicles:

Charlene manages the Blue 2012 Fiat 500, Recently purchased with very low mileage and new tires. And any size animal is welcome, even multiple animals if everyone gets along.

DBA:

Morgan Transport
Screening & Safety:
Email verified
Address verified
Phone verified
Drivers who join CitizenShipper are screened for a variety of criminal offenses and driving incidents. We utilize a reputable leader in screening called Single Source Services to perform our criminal background screening which includes national, county level and sex offender databases. The background screening we utilize is called the 'Discovery National'.
What we look for with the background screening:
No felonies in the past five years
No felonies in the last ten years involving theft, assault or violent crime
No DUI within the last five years
No patterns of misdemeanors in the past ten years relating to DUI's, theft, assault, or violent crimes.
No outstanding warrants for arrest
Does not show up in national sex offender registry
The background screening includes a residence trace and returns all names and addresses associated with a social security number, in addition to checking the alias(es) returned through the database and the sex offender data.
Based on the subject's name(s) and date of birth the data returned from the background screening are records from State Departments of Correction, State Record Repositories, County Courts, and sexual predator/violent offenders' databases from all 50 states, DC, Guam, and Puerto Rico. Although this search has great value, and the volumes and sources of data are increasing almost every day, it is not an FCRA compliant service. The data is not updated after being entered into the database and therefore records could be expunged, sealed, or verdicts could have been appealed.
While we believe that the Discovery National is a good foundational screening tool, it is not an exhaustive statewide search of records, and as such we cannot guarantee 100% effectiveness in screening candidates.
×