Reviews for Miss Wendy Family Concierge in Westfield,IN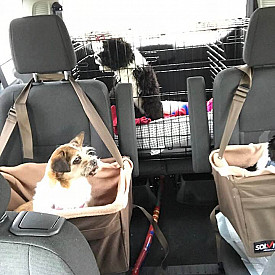 Miss Wendy Family Concierge
Westfield, IN
based on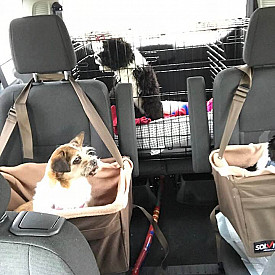 8 months on CitizenShipper
Contract Name:

Small dog from New Hope


Rating:

5/5




Date:

May 19, 2018


Route:

From New Hope, PA to Shelbyville, KY


Distance:

566 Miles


Comment:

Wendy was great! Arrived nice and early so I could get to work and took good care of the return of a dog that did not work out for us. We would use Wendy again!
Contract Name:

Medium dog from Springfield


Rating:

5/5




Date:

Jan 19, 2018


Route:

From Springfield, VA to Colorado Springs, CO


Distance:

1476 Miles


Comment:

Fantastic pet transport service and provided consistent communication. Was confident with my choice from beginning to end. Recommended Miss Wendy to a friend who will most likely utilize her service for their dogs.
Contract Name:

Small dog from Sunman


Rating:

5/5




Date:

Jan 03, 2018


Route:

From Sunman, IN to Bloomfield Hills, MI


Distance:

250 Miles


Comment:

Very professional. Would definitely use her services again!
Contract Name:

Small dog from Sugarcreek


Rating:

5/5




Date:

Dec 11, 2017


Route:

From Sugarcreek, OH to Indianapolis, IN


Distance:

238 Miles


Comment:

Wendy did a great job communicating with me the whole trip! She was prepared with a safe crate, treats, extra leash/collar, and whatever else my dog needed for the long trek. She was professional and reliable throughout the whole process and I would trust and recommend her in the future!
Rating:

5/5




Date:

Dec 02, 2017


Comment:

Miss Wendy Family Concierge is now part of our certified driving team, offering you the most trusted and secure transportation available.
Experience:
I have been driving forty years, with numerous long road trips under my belt. I have a gift of planning road trips with the goal of punctuality. I understand and make a effort to diminish my clients anxiety via guaranteed peace of mind through stepped up communication. I am open to phone interviews prior to any bid is excepted. Driving is an absolute favorite activity of mine, because I love seeing parts of this beautiful United States, that I've never traveled. I love dogs as much as driving. I currently am a 23 years public servant in public safety. I am a 911/Police/Fire/EMS dispatcher; so safety is a priority. Sorry cat lovers. No feline freight found here.
Vehicles:

I drive a beautiful black 2016 Ford Transit Connect. It converts from a passenger to a cargo. I prefer to transport dogs outside of crates, in my copilot seat, so that they can get plenty of ear and tummy scratches. If you think your fur-baby travels more comfortable in a crate, the Transit has more than enough room.

DBA:

Miss Wendy Family Concierge
Screening & Safety:
Email verified
Address verified
Phone verified
Background check
Drivers who join CitizenShipper are screened for a variety of criminal offenses and driving incidents. We utilize a reputable leader in screening called Single Source Services to perform our criminal background screening which includes national, county level and sex offender databases. The background screening we utilize is called the 'Discovery National'.
What we look for with the background screening:
No felonies in the past five years
No felonies in the last ten years involving theft, assault or violent crime
No DUI within the last five years
No patterns of misdemeanors in the past ten years relating to DUI's, theft, assault, or violent crimes.
No outstanding warrants for arrest
Does not show up in national sex offender registry
The background screening includes a residence trace and returns all names and addresses associated with a social security number, in addition to checking the alias(es) returned through the database and the sex offender data.
Based on the subject's name(s) and date of birth the data returned from the background screening are records from State Departments of Correction, State Record Repositories, County Courts, and sexual predator/violent offenders' databases from all 50 states, DC, Guam, and Puerto Rico. Although this search has great value, and the volumes and sources of data are increasing almost every day, it is not an FCRA compliant service. The data is not updated after being entered into the database and therefore records could be expunged, sealed, or verdicts could have been appealed.
While we believe that the Discovery National is a good foundational screening tool, it is not an exhaustive statewide search of records, and as such we cannot guarantee 100% effectiveness in screening candidates.
×