Reviews for Marsha d in new albany,IN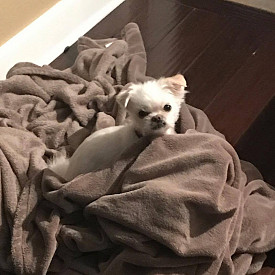 based on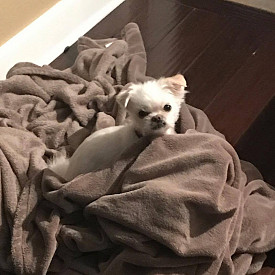 11 months on CitizenShipper
Cancellation rate: 0% in the last 4 weeks.
Contract Name:

Small dog from Shreve


Rating:

1/5




Date:

Dec 20, 2017


Route:

From Shreve, OH to Albany, NY


Distance:

447 Miles


Comment:

I received our puppy at 7 am the following day. That was over 12 hours after originally scheduled. Our puppy did not eat since 8 am the morning before, potentially putting our 8 week old puppy at risk. The shipper was very argumentative over the phone whenever we tried to contact her about the arrival of our puppy. We should have received him at 6pm on Friday but around midnight she finally texted us to say she wouldn't be dropping him as scheduled but instead the next morning. This was totally unacceptable as they adamantly say they don't wouldn't feed our puppy. (Due to this horibble shipment he didnt eat for over 24 hours) When they finally arrived with him, the puppy's fur reeked of cigarette smoke. (Again NOT a part of our contract.) we would not recommend this shipper.
Contract Name:

Shipment from Fellsmere


Rating:

3/5




Date:

Nov 21, 2017


Route:

From Fellsmere, FL to Lawrenceville, GA


Distance:

474 Miles


Comment:

Please check Vhicle specifications with Kenny
Rating:

5/5




Date:

Nov 15, 2017


Comment:

Marsha d is now part of our certified driving team, offering you the most trusted and secure transportation available.
Experience:
Hello, my name is Marsha with Pet Taxi and I would love the opportunity to work with you. We specialize in pet transportation and offer exceptional service. We are a door to door service and provide everything for your fur baby except food because we know how important their diet is to you. You will receive a daily update along the way. We provide a stress free environment for your fur baby giving them lots of love along the way. Do you have a budget? If so we can work with you to get it where you need to be or close. Let's get your fur baby home today. We accept cash, credit/debit and money transfers. We require a deposit at pick up for all transports over 200 miles.
Vehicles:

R.V and Van

US DOT:

302773

EIN DOT:

820733905
Screening & Safety:
Email verified
Address verified
Phone verified
Background check
Drivers who join CitizenShipper are screened for a variety of criminal offenses and driving incidents. We utilize a reputable leader in screening called Single Source Services to perform our criminal background screening which includes national, county level and sex offender databases. The background screening we utilize is called the 'Discovery National'.
What we look for with the background screening:
No felonies in the past five years
No felonies in the last ten years involving theft, assault or violent crime
No DUI within the last five years
No patterns of misdemeanors in the past ten years relating to DUI's, theft, assault, or violent crimes.
No outstanding warrants for arrest
Does not show up in national sex offender registry
The background screening includes a residence trace and returns all names and addresses associated with a social security number, in addition to checking the alias(es) returned through the database and the sex offender data.
Based on the subject's name(s) and date of birth the data returned from the background screening are records from State Departments of Correction, State Record Repositories, County Courts, and sexual predator/violent offenders' databases from all 50 states, DC, Guam, and Puerto Rico. Although this search has great value, and the volumes and sources of data are increasing almost every day, it is not an FCRA compliant service. The data is not updated after being entered into the database and therefore records could be expunged, sealed, or verdicts could have been appealed.
While we believe that the Discovery National is a good foundational screening tool, it is not an exhaustive statewide search of records, and as such we cannot guarantee 100% effectiveness in screening candidates.
×