Reviews for Lisa Juszkiewicz in Searsport,ME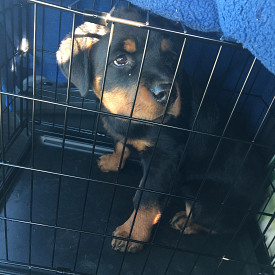 Lisa Juszkiewicz
Searsport, ME
based on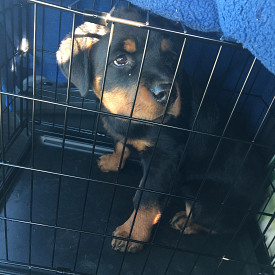 10 months on CitizenShipper
22 completed shipments so far
Cancellation rate: 0% in the last 4 weeks.
Contract Name:

Small dog from Lyndon


Rating:

5/5




Date:

Jun 05, 2018


Route:

From Lyndon, VT to Cincinnati, OH


Distance:

739 Miles


Comment:

I had Lisa pick up and deliver my pup, to my front door, in the time frame agreed to. Actually, she was a day ahead of schedule, which was even better. Lisa took care of my pup, as if it was her child, not cargo in transit. The breeder even commented to me that the transition went well when my pup was picked up. Communication throughout the process was first rate. If you want the security of having your pet or cargo delivered safely and on time, Lisa is who you will want to contract with. Couldn't be happier or more appreciative in my dealings with Lisa.
Contract Name:

Small dog from Dallas


Rating:

5/5




Date:

May 16, 2018


Route:

From Dallas, TX to Acme, PA


Distance:

1087 Miles


Comment:

Great communication. Kept us updated the whole trip. Treated our puppy like family, spoiled her. Would use Lisa again.
Contract Name:

Shipment from Potsdam


Rating:

5/5




Date:

May 04, 2018


Route:

From Potsdam, NY to New York, NY


Distance:

273 Miles


Comment:

Lisa was amazing! She kept me updated the whole drive, and I knew my pets were safe with her.
Contract Name:

Medium dog from Frankfort


Rating:

4/5




Date:

May 04, 2018


Route:

From Frankfort, KY to Warren, ME


Distance:

908 Miles


Comment:

Lisa and her team braved a winter storm to get our new dog Skittles in Frankfort Ten. and bring him to Maine. He was very timid and also threw up several times on the way. they took care of everything and got him here safely ....(sorry about the car!)
Contract Name:

Small dog from Turner


Rating:

5/5




Date:

Apr 17, 2018


Route:

From Turner, ME to New York, NY


Distance:

309 Miles


Comment:

most helpful and kind person i have met in long time. would trust her with my puppies again. went above and beyond to help me with things that were beyond the scope of what she was required to do. great person
Contract Name:

Recumbent exercise bike


Rating:

5/5




Date:

Apr 02, 2018


Route:

From Mount Holly, NC to Port St. Lucie, FL


Distance:

558 Miles


Comment:

On time with caring Professional workers
Contract Name:

Small dog from Bernville


Rating:

5/5




Date:

Jan 30, 2018


Route:

From Bernville, PA to Fayetteville, NC


Distance:

402 Miles


Comment:

Lisa was awesome. Literally about a 1 hour notice from the time I posted until she accepted. Thank you so much!
Contract Name:

Large dog from West End


Rating:

4/5




Date:

Jan 23, 2018


Route:

From West End, NC to Brunswick, ME


Distance:

784 Miles


Comment:

They were very good with the dog and kept us posted throughout the trip. Highly recommend them
Contract Name:

Medium dog from Manchester


Rating:

5/5




Date:

Jan 16, 2018


Route:

From Manchester, NH to Ruston, LA


Distance:

1360 Miles


Comment:

Lisa was absolutely wonderful to work with! With very little notice, she was able to coordinate a transport from New Hampshire to Louisiana. My daughters dog arrived at her destination without incident and at the scheduled time. We would recommend Lisa to anyone!
Contract Name:

Small dog from Greenville


Rating:

5/5




Date:

Dec 31, 2017


Route:

From Greenville, SC to Orchard Park, NY


Distance:

580 Miles


Comment:

Lisa was absolutely amazing. She was able to get to my pup within a days notice. She left from Maine, made it down to South Carolina and back to New York in a day and a half! She cared for him the whole ride listening to when he needed to stop for a potty break and feeding him and giving him water. She's be ry professional, stays in contact the entire time with updates. Would recommend Lisa 110%!
Contract Name:

Small dog from New York


Rating:

5/5




Date:

Dec 23, 2017


Route:

From New York, NY to Raleigh, NC


Distance:

426 Miles


Comment:

Lisa did an awesome job transporting my wife's little puppy. She picked up our little pup in New York City and delivered him the same day to our house in Raleigh, NC. She did timely updates and was very professional. I highly recommend her for your transportation needs.
Rating:

5/5




Date:

Dec 21, 2017


Comment:

Lisa Juszkiewicz is now part of our certified driving team, offering you the most trusted and secure transportation available.
Experience:
I have driven passengers as a chauffeur, also serveral hundred rideshare rides with passengers that prefer a more personal touch compared to taxi companies. I have worked with the public my entire life and love people I also own several different animals as well. I love animals of all kinds. I have also raised pittbulls most of my life. I own cats, previously owned horses, cows, pigs ect. I enjoy traveling and mix the love of animals and that is a match made. Thanks for taking the time to learn about me and feel free to message me for any questions concerning your shipment. I process payments through the square app this costs no extra fees to either party to process and I like to get half up front for gas and maintenance along my travels and the other half upon delivery. Thanks for considering my services. Additionally my father also completes some trips and has been driving professionally for over 3 million miles and along with that my husband also has joined my team so no job too large as we are able to get your dog delivered in a timely but safe manner with plenty of bathroom breaks and water and food along the journey depending on dog willing as some dogs do not eat when nerves up and trips do include pics and updates along the route to keep you informed. Have an outstanding day thanks for reading.
Vehicles:

2008 Kia Rio 5 , 2006 Mercury Sable, 2007 Piontiac Torrent all wheel drive suv with trailer. 05 Dodge 2500 crew cab

DBA:

Lisa Juszkiewicz
Screening & Safety:
Email verified
Address verified
Phone verified
Background check
Drivers who join CitizenShipper are screened for a variety of criminal offenses and driving incidents. We utilize a reputable leader in screening called Single Source Services to perform our criminal background screening which includes national, county level and sex offender databases. The background screening we utilize is called the 'Discovery National'.
What we look for with the background screening:
No felonies in the past five years
No felonies in the last ten years involving theft, assault or violent crime
No DUI within the last five years
No patterns of misdemeanors in the past ten years relating to DUI's, theft, assault, or violent crimes.
No outstanding warrants for arrest
Does not show up in national sex offender registry
The background screening includes a residence trace and returns all names and addresses associated with a social security number, in addition to checking the alias(es) returned through the database and the sex offender data.
Based on the subject's name(s) and date of birth the data returned from the background screening are records from State Departments of Correction, State Record Repositories, County Courts, and sexual predator/violent offenders' databases from all 50 states, DC, Guam, and Puerto Rico. Although this search has great value, and the volumes and sources of data are increasing almost every day, it is not an FCRA compliant service. The data is not updated after being entered into the database and therefore records could be expunged, sealed, or verdicts could have been appealed.
While we believe that the Discovery National is a good foundational screening tool, it is not an exhaustive statewide search of records, and as such we cannot guarantee 100% effectiveness in screening candidates.
×