Reviews for Genepher P in Arlington,TX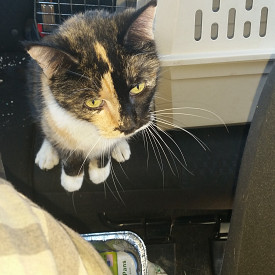 based on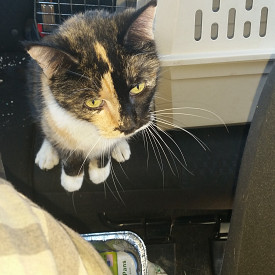 17 months on CitizenShipper
2 cancelled shipments
Contract Name:

Shipment from Abbeville


Rating:

5/5




Date:

Jun 08, 2017


Route:

From Abbeville, AL to Dallas, TX


Distance:

681 Miles


Comment:

Genepher is awesome!!! She delivered my puppy from Alabama to Texas...well organized, she kept me updated on where she was during the trip. She took pictures so that i can see how the the puppy was doing. She answered all my questions and concerns and didn't take long to reply back with answers. Thank you very much for bringing my puppy home.
Contract Name:

Cats from Richmond


Rating:

5/5




Date:

May 22, 2017


Route:

From Richmond, TX to Pueblo West, CO


Distance:

793 Miles


Comment:

Arrived for pick-up right on time and delivered exactly on time. Even when I had a few quirks - Genepher was totally patient and understanding. Great job!
Rating:

5/5




Date:

May 08, 2017


Comment:

Genepher P is now part of our certified driving team, offering you the most trusted and secure transportation available.
Experience:
* A NOTE TO ALL WHO POST SHIPMENTS ON THIS SITE, (The estimate ???-??? that this site suggests) IS ONLY A GUESS FOR AT HOW MUCH FUEL IT WOULD TAKE TO SHIP YOUR FURBABIES (It don't give wiggle room for emergencies such as a flat tire etc...) PLEASE NOTE THAT IF A BID IS A PLACE IN THAT RANGE (that either they are new to shipping or have a stacked shipment along that route). We here at Hippy Haulers, treat your furbabies as if they were our own. That means lots of love and precious text updates. We typical stop for potty breaks whenever and however often the wagging tails and meek meows ask us too. We have a facebook page under our name HIPPY HAULERS. Where we post each and every trip we take and your pet gets their own album so you can always go and find videos and pictures of how the trip is been going. In the down times between trips, I drive for Uber approved. No driving violations. I always bring another driver with me, to switch out on driving. We have experience with small farm animals, cats & dogs. Yep, even the goldfish (named Sam) So you may be thinking Hippy Haulers sounds like a winner, so what next you ask (out loud as if no one heard you ask). Well, that easy as apple pie (hummmm, Apple Pie)--ok if you happen to see Homer Simpson drooling pop into your head your my new best friend. 1. If you're in the same state I am and (I live in Texas) I normally ask half the payment up front as a booking fee. The other half comes into play the when I arrive to pick up the furbaby. If you live out of state I'll ask for the full payment up front. 2. I accept Google Pay (It works the same way Paypal does) I send a request you accept and Pooff!! I'm slightly richer and you have your self a booking fee deposited and great shipper. 3. So what's next well, (let's add ice cream to the apple pie) within the first 3 hours after we depart you will get your first text update. Which will include a pic of your furry backseat driver!! 4. If you can answer YES!! to the following question then you are ready to for me to load up when I arrive (You may find it fun to have to hunt for the kitty who somehow know's it's fixing to go on a trip) I may even smile and laugh as you run around squeaky ball or feather dangle, and all food blankets or leashes kitty litter (Basically everything that will help them feel at home in a moving object; where they may be thinking they are heading to the Horrible Man who starts witory list, Yeah sometimes squeaky balls can roll under the mysterious black hole of a seat only to be found 3 months later (In which case an inventory list comes in handy) Be there a MIA object that somehow gets left behind (we make every effort to return the lost toy etc...)No one likes to lose there the favorite best object in the entire world. Thank you for choosing Hippy Haulers with great love in our hearts and plenty of wagging tails and soft paws full of love. FOR A EASY TO READ VERSION OF THIS PLEASE CHECK OUT OUR FACEBOOK PAGE
Vehicles:

I have 2011 Kia Soranto..Currently making payments with full coverage Insurance.
Screening & Safety:
Email verified
Address verified
Phone verified
Background check
Drivers who join CitizenShipper are screened for a variety of criminal offenses and driving incidents. We utilize a reputable leader in screening called Single Source Services to perform our criminal background screening which includes national, county level and sex offender databases. The background screening we utilize is called the 'Discovery National'.
What we look for with the background screening:
No felonies in the past five years
No felonies in the last ten years involving theft, assault or violent crime
No DUI within the last five years
No patterns of misdemeanors in the past ten years relating to DUI's, theft, assault, or violent crimes.
No outstanding warrants for arrest
Does not show up in national sex offender registry
The background screening includes a residence trace and returns all names and addresses associated with a social security number, in addition to checking the alias(es) returned through the database and the sex offender data.
Based on the subject's name(s) and date of birth the data returned from the background screening are records from State Departments of Correction, State Record Repositories, County Courts, and sexual predator/violent offenders' databases from all 50 states, DC, Guam, and Puerto Rico. Although this search has great value, and the volumes and sources of data are increasing almost every day, it is not an FCRA compliant service. The data is not updated after being entered into the database and therefore records could be expunged, sealed, or verdicts could have been appealed.
While we believe that the Discovery National is a good foundational screening tool, it is not an exhaustive statewide search of records, and as such we cannot guarantee 100% effectiveness in screening candidates.
×