Reviews for April M in Clearwater,FL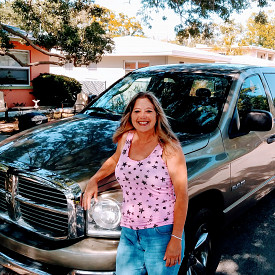 based on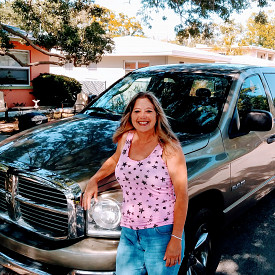 10 months on CitizenShipper
7 completed shipments so far
Cancellation rate: 0% in the last 4 weeks.
Contract Name:

Large dog from De Soto


Rating:

5/5




Date:

Jun 21, 2018


Route:

From De Soto, IL to Gainesville, FL


Distance:

689 Miles


Comment:

I am VERY glad I chose April and Chad to transport our dog Bear! They seem like great people, Chad was kind and also very accommodating. They transported his huge kennel too! Bear had a nice time riding cross country with Chad. Everything went smoothly and they gave us updates. I was impressed with how Chad handled Bear as well. When Bear arrived, he didn't even act like he had just traveled over a 1000 miles! He had clearly been comfortable and in that short time had formed a bond with Chad. Chad and April are definitely pet friendly and I am thankful for their help. Plus the cost was reasonable and I didn't have to worry which was priceless! Chad didn't even mind that my brother sent a stinky dog bed with (though I was embarrassed!). I would definitely hire them again and would recommend them for your transportation needs ! Thanks again for getting Bear to us safe and sound.
Contract Name:

Large dog from Knoxville


Rating:

5/5




Date:

Jun 02, 2018


Route:

From Knoxville, TN to Panama City Beach, FL


Distance:

410 Miles


Comment:

April was able to transport my pup with very short notice and we couldn't be more thankful. Communication and professionalism are top notch. Highly recommend!
Contract Name:

Small dog from Decatur


Rating:

5/5




Date:

May 29, 2018


Route:

From Decatur, IL to Boca Raton, FL


Distance:

1061 Miles


Comment:

Very prompt and professional. April kept me up to date with messages about my sweet puppy baby. Thanks again April! Lisa C. Boca Raton FLn
Contract Name:

Cats from Clarksville


Rating:

5/5




Date:

May 19, 2018


Route:

From Clarksville, TN to Moncks Corner, SC


Distance:

475 Miles


Comment:

April was right on time extremely polite friendly and punctual. I would recommend using her services to everyone!
Contract Name:

Medium dog from Titusville


Rating:

5/5




Date:

May 11, 2018


Route:

From Titusville, FL to Ukiah, CA


Distance:

2515 Miles


Comment:

April was amazing! Her and her husband both treated Luna like she was their own pup! I'm so thankful for them and how far they came to help make this possible for me! (FL all the way to Nor CAL). I would use them again and I would recommend them to anyone!!!! Thankyou guys so much! Luna won't ever forget ya!!
Contract Name:

Power Boats from Punta Gorda


Rating:

5/5




Date:

May 11, 2018


Route:

From Punta Gorda, FL to Folsom, CA


Distance:

2392 Miles


Comment:

This was an amazing experience. April was extremely friendly and communicated very well along the entire trip from Florida to California. I would definitely contact her and Chad again for any of my hauling needs.
Contract Name:

Small dog from Callahan


Rating:

1/5




Date:

May 11, 2018


Route:

From Callahan, FL to Bakersfield, CA


Distance:

2169 Miles


Comment:

Driver was unable to make delivery.
Contract Name:

Medium dog from Atlanta


Rating:

5/5




Date:

Apr 12, 2018


Route:

From Atlanta, GA to Tallahassee, FL


Distance:

230 Miles


Comment:

Pleasant and helpful team.
Rating:

5/5




Date:

Nov 05, 2017


Comment:

April M is now part of our certified driving team, offering you the most trusted and secure transportation available.
Experience:
My experience includes driving motorhomes classes A,B,& C. Also moving trucks of variable lengths. In addition I have towed automobiles, boats, jet skies, motorcycles and specialty trailers. As well as joyfully transported all types of pets throughout my travels. I am safe driver with an exemplary record. My loving husband acompanies me with every shipment. I look forward to providing you with dependable, caring and reliable shipping, with a woman's touch...
Vehicles:

2008 Dodge Ram Big Horn. Elect.Brake system.Adjustable air suspension. 5th wheel hookup.
Screening & Safety:
Email verified
Address verified
Phone verified
Background check
Drivers who join CitizenShipper are screened for a variety of criminal offenses and driving incidents. We utilize a reputable leader in screening called Single Source Services to perform our criminal background screening which includes national, county level and sex offender databases. The background screening we utilize is called the 'Discovery National'.
What we look for with the background screening:
No felonies in the past five years
No felonies in the last ten years involving theft, assault or violent crime
No DUI within the last five years
No patterns of misdemeanors in the past ten years relating to DUI's, theft, assault, or violent crimes.
No outstanding warrants for arrest
Does not show up in national sex offender registry
The background screening includes a residence trace and returns all names and addresses associated with a social security number, in addition to checking the alias(es) returned through the database and the sex offender data.
Based on the subject's name(s) and date of birth the data returned from the background screening are records from State Departments of Correction, State Record Repositories, County Courts, and sexual predator/violent offenders' databases from all 50 states, DC, Guam, and Puerto Rico. Although this search has great value, and the volumes and sources of data are increasing almost every day, it is not an FCRA compliant service. The data is not updated after being entered into the database and therefore records could be expunged, sealed, or verdicts could have been appealed.
While we believe that the Discovery National is a good foundational screening tool, it is not an exhaustive statewide search of records, and as such we cannot guarantee 100% effectiveness in screening candidates.
×