Reviews for 1van1manmover in Natick,MA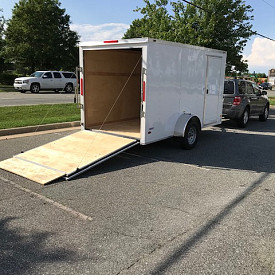 based on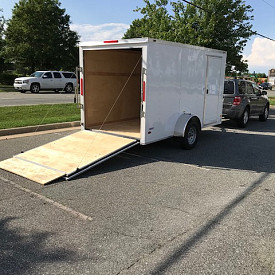 48 months on CitizenShipper
7 completed shipments so far
Cancellation rate: 12% in the last 4 weeks, based on 8 won shipments.
Contract Name:

Furniture from Columbus


Rating:

5/5




Date:

Sep 18, 2018


Route:

From Columbus, OH to New Canaan, CT


Distance:

504 Miles


Comment:

It was really a pleasure working w David: he is very responsive, took photos of furniture, picked up and delivered when he said he would, no changes along the way, took great care wrapping, reliable, fairly priced and a great alternative to moving companies. I would wholeheartedly recommend working with him!
Contract Name:

Shipment from Fairfax


Rating:

5/5




Date:

Sep 18, 2018


Route:

From Fairfax, VA to Lanesborough, MA


Distance:

331 Miles


Comment:

Dave is the best of the best! Great care and communication every step of the way and prices that can't be beat! A+++
Contract Name:

Furniture from Portsmouth


Rating:

5/5




Date:

Sep 14, 2018


Route:

From Portsmouth, NH to Hebron, OH


Distance:

642 Miles


Comment:

Dave was on-time picking my stuff up in NH and delivering it in OH. He was very responsive and very reasonably priced. I'd give him a job anytime in the future!
Contract Name:

Bass Guitar Amps


Rating:

5/5




Date:

Aug 16, 2018


Route:

From Teaneck, NJ to Chesapeake, VA


Distance:

310 Miles


Comment:

Dave was great to work with! He was on time and kept in touch from pick up to delivery. The seller of the item I had shipped was pleased with him also. Everything worked out great. I'll definitely get Dave to ship for me again. 110% ??
Contract Name:

Less than Truckload from Manchester


Rating:

1/5




Date:

Jun 27, 2018


Route:

From Manchester, CT to Opa-locka, FL


Distance:

1181 Miles


Comment:

responded at the beginning then I never heard from him again, Maybe something happened to him but as of now he is not responding or resolving my shipment so I have to give him a poor rating.
Contract Name:

1 Bedroom Apartment from New Windsor


Rating:

5/5




Date:

Jun 23, 2018


Route:

From New Windsor, NY to Summerfield, FL


Distance:

969 Miles


Comment:

Dave did a great job, kept in contact with me the whole time and arrived early. The shipment was packed and in perfect shape when arrived. I would recommend him to anyone who need his services.
Contract Name:

Shipment from Englewood


Rating:

1/5




Date:

Jun 16, 2018


Route:

From Englewood, FL to Pennsburg, PA


Distance:

1007 Miles


Comment:

This guy called me 2 minutes before my flight to Florida and cancelled. He said he read my shipment wrong. I had to put 1star in order to post Just trying to get more money. Bad Karma
Contract Name:

Small dog from Haverhill


Rating:

5/5




Date:

Jun 07, 2018


Route:

From Haverhill, MA to Sellersville, PA


Distance:

274 Miles


Comment:

This was my first time using Citizen shipper. I needed transportation for a young puppy . David was excellent and got him where he needed to go . I was a bit nervous as I had never done this before . He gave me a receipt of payment and let me take a copy of his drivers license for my security . I will definitely be using him again thank you David and thank you citizen shippers !!!!
Contract Name:

Shipment from New Bern


Rating:

5/5




Date:

May 26, 2018


Route:

From New Bern, NC to Syracuse, NY


Distance:

551 Miles


Comment:

Dave Myers was excellent and exceeded expectations. He was easy to reach, kept me informed from the start and kept me updated throughout. He is extremely trustworthy, delivers on time, able to handle title and vehicle keys (which most shippers don't). He is one guy that does the entire job and you only deal with him instead of a company that brokers and you have no idea who is handling your shipment. This was my first time having bought a motorcycle online and needing it shipped from NC to NY but Dave gave me piece of mind. I would highly recommend him. Dave is 100% reliable and you'd be a fool not to hire him.
Rating:

5/5




Date:

May 12, 2018


Comment:

1van1manmover is now part of our certified driving team, offering you the most trusted and secure transportation available.
Experience:
Hello, my name is Dave Myers... Been self employed for 8 years in the moving business. Air Force Veteran. My route consists mostly along the eastern seaboard. The northeast down to Florida and back. All the towns in between. Please let me know if you have any questions regarding your move. Whether it be antiques or pets. Unfortunately I have received two really unfair reviews of my service on this site. I look forward to working with you or your client. www1van1manmovercom
Vehicles:

I use a Ford SUV and a new 6x12 foot enclosed trailer.

DBA:

1van1manmover
Screening & Safety:
Email verified
Address verified
Phone verified
Background check
Drivers who join CitizenShipper are screened for a variety of criminal offenses and driving incidents. We utilize a reputable leader in screening called Single Source Services to perform our criminal background screening which includes national, county level and sex offender databases. The background screening we utilize is called the 'Discovery National'.
What we look for with the background screening:
No felonies in the past five years
No felonies in the last ten years involving theft, assault or violent crime
No DUI within the last five years
No patterns of misdemeanors in the past ten years relating to DUI's, theft, assault, or violent crimes.
No outstanding warrants for arrest
Does not show up in national sex offender registry
The background screening includes a residence trace and returns all names and addresses associated with a social security number, in addition to checking the alias(es) returned through the database and the sex offender data.
Based on the subject's name(s) and date of birth the data returned from the background screening are records from State Departments of Correction, State Record Repositories, County Courts, and sexual predator/violent offenders' databases from all 50 states, DC, Guam, and Puerto Rico. Although this search has great value, and the volumes and sources of data are increasing almost every day, it is not an FCRA compliant service. The data is not updated after being entered into the database and therefore records could be expunged, sealed, or verdicts could have been appealed.
While we believe that the Discovery National is a good foundational screening tool, it is not an exhaustive statewide search of records, and as such we cannot guarantee 100% effectiveness in screening candidates.
×